Mado café at JEM Jurong East Singapore
by Ng Foon Lan
(Singapore)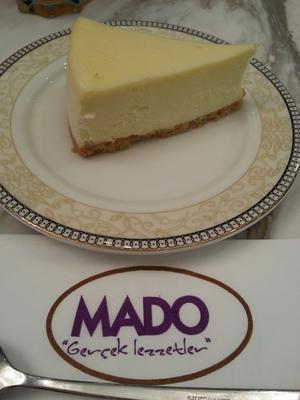 Cheese Cake at MADO Cafe JEM Jurong East
Visit their first outlet at JEM at Jurong East for your nice dining experience. We were seated promptly and our orders were taken quickly.


Décor was simple and it's a good place to people watch as it's glass panels all around. The chandeliers provided a nice ambience to the café.
Alfresco seating is available though it was empty when I was there due to the hot weather.
4 mummies and their kids went to try the tea time specials. It's pretty good value as it starts from $8.90 for half a waffle with ice cream and a beverage of your choice.
Waffles are pretty standard fare , nothing impressive but the ice-cream was creamy and good. According to what we read on the menu, their ice-cream is one of the finest in the world and it is imported from Maras, Turkey.
They served pistachio nuts together with their ice-cream and waffles which complements each other well. Had the waffles been better, I would have given the dessert 2 thumbs up.
I had the strawberry watermelon soda and I like it. A refreshing drink for the hot summer afternoon. It might be a tad too sweet for some though but perfect for me.
MADO
6734 3196
Opening Hours
Mon to Sun: 1000 - 2200
50 Jurong Gateway Road
#01-04
JEM
Do you know of any good cafes and cakes in Singapore? Please share with us at
OCM Guide to cafes and cakes in Singapore
.