L'OR Nespresso Compatible Capsules at Cold Storage Singapore
by CS1
(Singapore)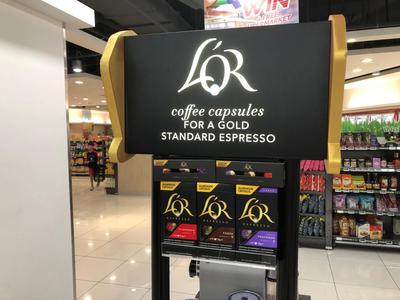 L'OR Nespresso Compatible Capsules
Brand: L'OR Nespresso Compatible Capsules

Coffee Machine: Nespresso Single Serve Coffee Machine

Location: Kinex Mall (formerly known as One KM Mall) Cold Storage

The first look at L'OR coffee capsules and my thought is an expanded inventory of coffee that Nespresso coffee machine owners get to enjoy.

The L'OR range is impressive but less impressive is the price. In my mind, I was thinking if the price difference is not too much, how are they going to compete with Nespresso.

And of course, Nespresso is also protecting its own market by giving out discounts and building up its range.

I do not know if Starbucks will cross over to Nespresso, currently, they are already on Dolce Gusto, another Nestle single-serve platform. In time to come, maybe even as you are reading this, you might be able to use Starbucks capsules on Nespresso Coffee Machine.

My take with L'OR is the price tier, my thought is it can have a more inclusive price much like the range from Kaffa Kaldi.


Join in and write your own page! It's easy to do. How? Simply click here to return to KKPL | Coffee Machine Page .
---