KRAFTWICH™ (Rancilio Machine)
by Jojo
(Singapore)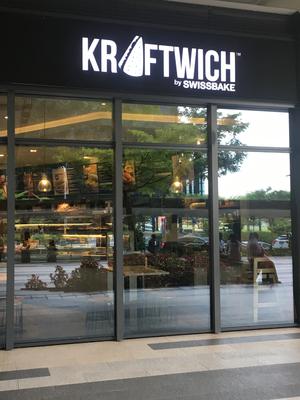 KRAFTWICH™ at Paya Lebar Square is a café concept by Swissbake offering healthy & nutritious meals in a comfortable, contemporary setting (from their homepage). They served Breakfast Sandwiches, Salads, Quick Bites, Pastries and Cakes, Desserts and Light Meals.

Type of outlets: Café

Type of cuisine: Swiss Bakery & Sandwiches

Type of coffee-based drinks served:
Espresso $3.60 l Macchiato $3.90 l Long Black $3.90 l
Café Latte $4.30 l Cappuccino $4.30 l Flat White $4.30 l
Mocha $4.90 l Hot Chocolate $4.00

Their long black is not bitter and not acidic, quite easy to drink.

Type of Coffee Machine: RANCILIO CLASSE 7
- Up to 4 different programmable brew doses
- Automated daily cleaning program
- Clever steam wand handle - fast action & ergonomic
- Made from stainless steel and painted steel

An online search shows that Spinelli is the coffee machine supplier in Singapore that distributes Rancilio Brand.

Join in and write your own page! It's easy to do. How? Simply click here to return to Espresso Coffee Machine Review Page (Consumers).
---