KITA Coffee (La Marzocco Linea 2 group)
by Bella Chin
(Singapore )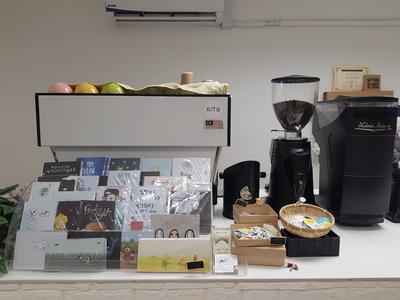 KITA Coffee in Malaysia Kuala Lumpur it is located at Fahrenheit88 shopping mall, this café is locally owned by a husband and wife (Wife Malaysian Chinese, husband Japanese), and they serve vegetarian foods and desserts.

They famous in roll cake, it's come with a wide range of roll cake and they used fresh fruits to make cakes & desserts. Must try their signature Houjicha Genmaicha roll cake and cheese tofu cake.

I love their "Dirty Matcha" selling at RM14, it's made with espresso, matcha powder and cold milk, it gave a very smooth creamy texture and the espresso does not overpower the matcha taste. It is a well-balanced combination beverage.

The Japanese tofu cheese is a must to try selling at RM15, the cheesecake texture are light and smooth and it has the mild yoghurt taste.

They are offering to make your own Latter Art Experience RM30 per person, each person is entitled to make two cups of coffee throughout this session.


• Type of outlets: Vegetarian Japanese cafe
• Outlet Location: Malaysia, KL, Fahrenheit88 mall.
• Type of cuisine: Japanese cuisine, coffee, sparkling tea, matcha and desserts

• Price of coffee-based beverages: RM 12 – RM 17
• Price of non-coffee beverages: RM 13 – RM 15

Type of Coffee Machine: La Marzocco Linea 2 group

Main Feature:

• Options available model 1,2,3 or 4 group head
• Customize colour is available
• Dual boiler system – This is to ensure the stability of the espresso shot after shot.

• PID temperature controller – This is to ensure the stability of the brewing temperature (+/- 0.5◦c) in order to get a perfect taste of the espresso.

• Insulated boilers- Energy saving, this is to reduce energy consumption while maintaining the temperature.

If you ever visit Malaysia please drop by to try this KITA Coffee https://www.facebook.com/kitacoffeemy/

And if you are looking for a good semi-auto espresso machine you can checkout BonCafe they are the distributor of the La Marzocco, or if you are looking for fully-auto or a good "Hybrid" espresso machine I will recommend you to try the Schaerer Barista machine Kaffa Kaldi are the distributor of the Schaerer.

If you read until here, then you must be prepared to grab a cuppa soon. If you are keen to check up some free coffee, you can click and follow the link for more information! Enjoy your coffee!