Keurig is selling donuts!:)
by chee Leng (on coffee makers)
(Singapore)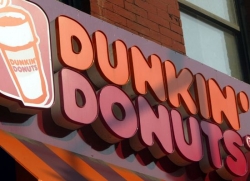 Dunkin' Donuts Coffee?
Did it captured your attention? Why would Keurig, the leader in Single serve coffee maker be selling Donut? To be exact, they would be selling Dunkin' Dounts range of coffee in their k-cups soon!


Many of us grow up drinking Dunkin' Donuts coffee, be it good or bad, it is part of our life, so to have that readily in k-cups is a boon, don't you agree?
In Summer, you would be able to buy Dunkin's Donuts k-cups from any of the 6000 Dunkin's Donuts outlets. It comes in a 14 count box and offer flavor such as Original Blend, Dunkin's Decaf, French Vanilla and Dunkin' Dark.
Some of the outlets would also be offering Keurig Single serve for sales.
Folks that have been following my articles would noticed a trend in the single serve market, companies are trying ways and means to expand to enter and grow the market.
Just last week, I was sharing about how
Starbucks is teaming with Coutesy Products
to grow their own Single serve and now you have Keurig expanding its base.
While, 6000 plus outlets is not big compared to Starbucks more than 10 000 outlets, what keurig would get is loyalty.
Dunkin's Donuts coffee drinkers are loyal to their brand and this is an important point. If they are given an option of brewing their favorite coffee at home, they would not think twice about buying it!
In addition, the advertisement and promotion done by Dunkin' Donuts gets enormous responses (anyone remember the free donut day?).
Overall, this deal is sweeter for Keurig than Dunkin. The former gets extra outlets for branding, gets to sell their machine, and gain entrance to new customers.
Dunkin' gets to sell more coffee.
Regardless, this is a smart and very good move for both Dunkin's Donut and Keurig, by allowing people to drink their favorite coffee easily, you prevent your competitor from poaching them.
In today's ultra competitive market, customers' loyalty is so important.
My two cents is, to really pump up the growth of their keurig user base, keurig should do a tie up with Dunkin's Donut and offer free machine with XX amount of coffee purchased.
This sort of purchase with purchase has an amazing effect in driving up sales...