It is really a numbers game for Starbucks and Costa Coffee?
by chee Leng (on coffee makers)
(Singapore)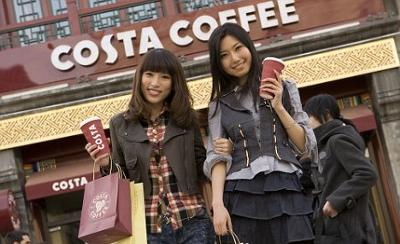 China Costa Coffee
Both Starbucks and Costa coffee planned to "invade" China and in a big way. With the former planning to open 1500 stores by 2015 and the latter 2500 stores by 2018.


Both are large numbers and while China might have the population to support this numbers, the variables are largely different from US and UK where this two chains are from.
Moreover, even in US, we do remember Starbucks closing hundreds over outlets due to over expansions -could this be happening in China once again?
Now, in China, within walking distances from a Starbucks you would find a Costa coffee -would an area within walking distance be able to support so many coffee chains?
25th October, Starbucks opened another stores within the Beijing Airport. Note that is not the second, nor third but the seventh outlet just within the Airport!
Again, moving forward can a building sustain so many coffee outlets?
It seems like replicating the whole expansion scenario of the 90's.
In order to get prime location, anything goes and now with competition, Starbucks and Costa coffee might be viewing their gain in getting as many prime location as possible.
They would have factor in the sunk cost, the losses initially. The projection is of course to breakeven within a year or maybe two.
But there are some factors that is working against them:
1. China is per-dominantly a tea drinking country.
Although, the younger generation grew up knowing about Starbucks (they have been in China since 1999), much education is still required to convert the larger part of the population.
2. There are equally numbers of smaller cafes opening out.
They enjoy much closer relationship with their customers and are able to adapt faster to the changing consumers' taste.
And since most are opened by locals, they would have offerings closer to what their customers wants.
3. Too many hands spoiled the "coffee".
Starbucks' strategic partner Maxim Group is able to expand rapidly in Southern China due to their business network. But this doesn't necessarily meant that they understand their customers.
Similarly, Hualian that has partnered with Costa coffee while able to expand into areas near to the supermarket (prime area) might be clueless on their target market.
We all known that the wide difference between food services and modern trade. Now, you have partners with varied interest and directions might get confused in this case.
My $0.02.
Seriously, I think the expansion game is necessarily to spread the awareness and strengthen its brand. But, I think the launch of Via in China's market is more important than the expansion of more outlets.
The securing of more supermarkets and locations to sell its merchandise would add more value to Starbucks moving forward.
Just take a look at what they are doing in US market, aren't they actively working with supermarkets, strategic partners, i.e. Keurig to widen their reach.
Rather than start by educating consumers about the beauty of having a cuppa. Why not get them to bring this joy back home.
Ultimately, an outlet has a fixed turnover, i.e. you can only serve so many customers. But, you can get consumers to buy as many packets of your Starbucks coffee home!
Personally, if Starbucks would to expand on its retail strategy, it would take over Costa coffee or any brands for that matter.
So, if I am Starbucks, my investment would be heavily in expanding my Modern Trade business.
Do I have a case study to back me up? Think -who was and still is the largest coffee roasters and selling the most coffee -Nestle. Don't think they even have 100 cafes worldwide (they did open some though).
Agree or disagree -share with me your thoughts...