ION Orchard and 313@Somerset, are reasons why prime location would not bring in the dough anymore!
by chee Leng (on coffee makers)
(Singapore)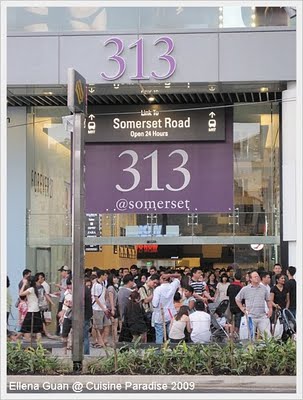 313@Somerset
If you run a coffee shop business, then you are familiar with the business slang "location, location and location".


Any veteran would tell you that location is what matters in this industry. Get a good location, no matter what is the cost and voila -you would be assured of good business -really?
ION Orchard and 313@somerset in Singapore was marketed as the biggest thing to hit the retail scene, and they opened with great fanfare.
Of course, their rental are high, but hey this is prime location, guarantee to succeed right?
In less than 8 months, 6 outlets in Ion was closed and with at least 5 more planning to close. And they are not small companies either.
They are outlets such as Arinco King and Freddie's burger, F&B that have been anticipated by many Singaporeans.
But, even with their marketing might and Ion prime location, they are not able to make money.
How about 313@Somerset?
Currently, you can walk into PrimaDeli Express and buy a bun for $1.10 (similar to the price you pay at any heartland stores).
Yes, PrimaDeli Express is lowering its selling price to bring in the customers, but how long can they survive?
Asked about what they are going to do to bring in the crowd, the mall operator cited a photography contest and some more posters as the
solutions.
If it was so simple, couldn't they save the rest of the other shops?
It goes deeper than that. In fact, in my opinion, location doesn't matter anymore!
By the way, if location is so important, why do you go all the way for Katong Laksa or to Old Airport road for Wanton Mee?
With the influx of more coffee shops and F&B outlets, the important thing is to grow your own community just like the way Jalan Kayu is known for Prata and Katong is for Laksa.
Without that community, it is likely that you would end out as a number in ACRA statistics of F&B that opened and closed within a year.
By the way, that number stood at 90% and it is in a boom year and yet so many coffee shop business can still fold.
The important for a business remains to be quality products and services that customers would keep talking about and recommending to their friends.
Once you have this community, it doesn't matter if where your shop is located, customers would find you!
Do you know of a coffee shop that is very popular? Check if it is listed in this
guide
-if not, list it in and get some freebies from us!:)