Gloria Jeans has a Single serve coffee machine!
by chee leng-Oncoffeemakers
(Singapore)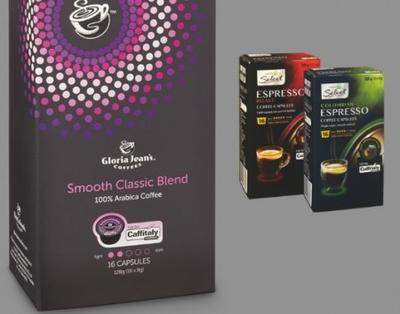 Gloria Jeans Launching Caffitaly S14 in Woolworths
And this Gloria Jeans single serve coffee machine is going to be launched in 875 locations in Australia!


In a joint venture (pardon me if I get the terminology wrong, I do not know if they have a joint venture, but since they are doing this together, I am using this term) between Woolworths and Gloria Jeans, they are launching a coffee capsules system in all Woolworths outlets across Australia.
This is a Caffitaly system S14, the system will be retailing at $99 and per pod is retailing at less than AUS$0.38.
This is a very attractive pricing. Considering that Nespresso retails at more than $300 and per pod cost close to a dollar.
In addition, Caffitaly system is not totally unknown, it is being used by another coffee giant CBTL for that CBTL system as well.
Personally, I think this is a great move by Gloria Jeans, and I am sure it will uplift its sales by many notches.
Australians are well known coffee lovers and they are also used to home brewing. With christmas just around the corner, at this great pricing and with so many locations, the combinations all point to a fat Christmas for Gloria Jeans.
My $0.02
The timing
I think the timing is just so right for Gloria Jeans to be doing this.
Starbucks recently just launched their
Verismo
, and it is a matter of time it will be going to Australia (I tried searching for it, but do not think it
is launched in Australia yet, if otherwise, please leave a comment to inform all of us -thanks), so being there first, Gloria Jeans gained some first mover advantage.
Of course, by going in before the festive purchase and gift giving seasons, this is bound to lift up Gloria Jeans sales.
The Product
Maybe it is fashionable, or maybe it is a must have. It seems like all coffee retailer or even coffee companies must have a single serve coffee machine.
CBTL for Coffee Bean and Tea Leaves, Verismo for Starbucks and Dolce Gusto for Nescafe.
The fact is single serve coffee machine is the most lucractive coffee segment and the fastest growing segment.
Nespresso for instance is the number one profit generator for Nestle for close to a decade. This is just to show how profitable single serve coffee can be.
The winner
While, we are all focusing on the various coffee companies, the company that might be the biggest winner in this single serve coffee race might turn out to be caffitaly!
Currently, it is producing single serve coffee machine for two of the bigger coffee chains, and it is also selling machines under its own brand names.
Riding on the tides of the single serve coffee demand, it might just be selling close to Nespresso or even more when the total numbers are being tallied.
In the end, the winner might just be caffeitaly!
Anyway, looking forward and hopefully it be launched in Gloria Jeans outlets in Singapore soon...