Gloria Jean's Coffee | Nuova Simonelli Machine | Paya Lebar Square
by Silver
(Singapore)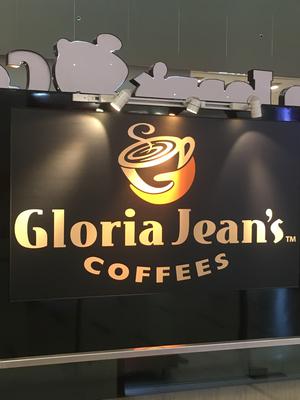 Gloria Jean's Cafe
Gloria Jean's Coffee has over 400 cafes in Australia and has 4 outlets in Singapore. I went to their Paya Lebar Square outlet which is located at Level 1 and in the middle with an open-store concept.

They are serving the regular Espresso ($4.30), Macchiato ($4.90), Americano ($5.00-$5.50), Cappuccino & Latte ($6.30-$6.80) with their Special Espresso Blend.

They also have an interesting range of coffee-based beverages on their menu ranging from $7.40 - $7.90 per cup.
White Chocolate Mocha (Espresso, Milk and White Chocolate)
Cafe Mocha (Espresso, Milk and Chocolate)
Very Vanilla Latte (Espresso, Milk and Vanilla Syrup)
Irish Nut Crème (Espresso, Milk, Irish Crème & Hazelnut Syrup)
Mocha Caramelatte (Espresso, Milk, Chocolate and Caramel Syrup)
Chocolate Macadamia Latte (Espresso, Milk, Chocolate and Macadamia Syrup)

Other beverages offered are;
Hot Chocolate $7.00 - $7.50
Hot Tea $6.00 - $6.50
Chai Tea Latte $6.00 - $6.50

I noticed they are using a Nuova Simonelli Semi-Auto Coffee Machine with a grinder beside it. This brand looks familiar which I found out that Monster Curry served coffee using Nuova Simonelli Prontobar as well. This maker also offers smaller office coffee machine as well.

They have a small food selection, with a few sandwiches but focus more on drinks. Service was not too good, only one staff was around. The place is open-concept hence well ventilated and easy to find a seat, no crowd. I find that the coffee is a bit pricey and the coffee tastes not as good as many cafes in Australia.

Thank you for reading my thoughts, would you believe if I tell you that there are F&B in Singapore that are giving out free coffee? Well, I chanced upon it, and have enjoyed it for quite a while! Hope you enjoy it too!

Join in and write your own page! It's easy to do. How? Simply click here to return to Espresso Coffee Machine Review Page (Consumers).
---