For Star wars Fan: Nestle introduces Star Wars themed coffee machine!
by chee leng-Oncoffeemakers
(Singapore)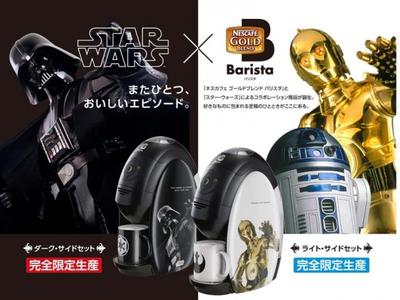 Star Wars Barista/Alegria Coffee Machine
Japan is launching 5000 pieces of Star Wars themed Barista coffee machine. You can choose the "dark side" and get a Darth Vader themed Barista coffee machine or you can C-3PO edition.


Not only that, it also comes with an exclusive mug. Those that chooses the Darth Vader edition will have a mug with the Imperial logo while the C-3PO edition comes with the Rel Alliance Logo.
The good thing about this offer is the pricing remains the same at about US$120.
For folks that have not heard of the Nestle Barista machine, it is known as the Alegria coffee machine in other parts of the world.
The
Alegria Nescafe coffee machine
enjoys tremendous success when it was launched in Singapore earlier this year, but the excitement has since fizzles, a themed Alegria coffee machine might be what it needed to get the excitement going again.
But for now, fans in Singapore will only be able to get it on ebay or amazon.com.
My $0.02
This is probably one of the first where companies are using movie tie up to sell coffee machine. It is always people that are endorsing coffee machines, i.e. George Clooney for Nespresso, Julia Roberts for Lavazza etc.
By executing such an action, there are only two explanations:
1. The sales for Baristas (Alegria) is not that favorable at the moment (I did not any research into the sales in Japan and this is only my assumption), and they are using movie tie-in to sell this machine.
2. They are trying to open new grounds in "collectible" series for coffee machines.
They have done it for their other brands, notably Kit Kat, so Nescafe might be looking replicate the same formula for their Baristas coffee machine.
If they enter into this market, it will generate a lot of 3rd party endorsements. I.e. people will be looking for a particular series on ebay, amazon.com etc and inevitably be talking about the Barista brand.
While, I am not sure on the directions for Nescafe, one thing I can be sure of is this 5000 pieces is going to be sold out.
Even me, that is not a Star Wars fan will want to get one as well!!