D'Good Café |Singapore cafes and Cakes
by Selina
(Singapore)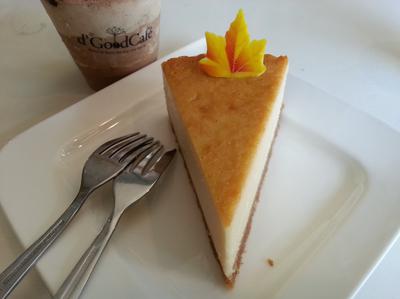 Cheese Cake |D'Good Cafe|Singapore
Located in the popular neighbourhood of Holland Village, D' Good café offers 3 different areas where you can enjoy your meal.


There is the charming alfresco dining at the rooftop, a secret garden on the 2nd level coupled with swings and artificial grass and a simple white attic with a kid's corner ( comes with kiddie chairs and tables , wooden rocking reindeers and big cuddly soft toys. My kid will love it here I am sure.
A pity the wifi wasn't working when we were there or it would be a perfect afternoon to chill and watch some youtube movies, do some work and while the time away.
Service wasn't very impressive when I tried to order my food. The girl that took my order was kind of rude and impatient when I wanted to ask some questions.
It's sad because I really like the ambience but the service turns me off. Maybe I should keep my fingers crossed that I can meet a better server the next time round.
Sea salt maple cake is creamy and salty and cheesy which I love but if you don't like salty desserts, steer clear of it. Earl grey tea cake was a miss but the coffee is good. I will be back to try the mains !!
273 Holland Ave #02-01/02, Singapore 278992
Find more about cafes and cakes in Singapore in our OCM Guide to
Singapore Cafes and Cakes
.