Coffee and Tea Business Report tells you to sell instant coffee!
by chee Leng (on coffee makers)
(Singapore)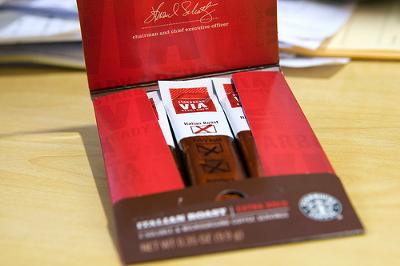 Via Instant coffee
When I saw the latest "Hot Beverages (Coffee and Tea): A Global Strategic Business Report" announced by Global Industry Analysts, Inc., I immediately see the potential of instant coffee!


First, lets look at the few key findings from this report:
Globally, there is more demand for coffee than tea, and overall there is growth in coffee.
Japan leads the Global market in terms of instant coffee
And Asia Pacific is touted the fastest growing market for hot beverages, specifically coffee.
Growth of RTD (read to drink) beverages both coffee and tea.
Next, lets look at what some of the big players (profiled in the report) are doing.
Starbucks -expanding fast in China and introduces Via, a instant premium coffee
Nestle -introduces Algeria and Milano in Asia, both uses freeze dried format coffee (instant coffee). And market aggressively on their Nescafe brand.
My $0.02
The growth is on coffee because of two factors in Asia, curiosity and the "celebrity" power of the Hollywood stars.
People in North Asia are taking up coffee as their preferred beverage because they want to try something new and also because of the many movies that shows Hollywood stars drinking them.
Instant coffee trend
My thought is what Japan is now, is what China would be a few years from now. Both Japan and China have a large number of coffee shops.
Both
have instant coffee. So, if Japan has the largest consumption of instant coffee, my thought is China would likewise consume large amount of instant coffee as well.
This would be the growth trend.
Marketing of Global Players
The trend favors instant coffee, not merely because I think it would be so, but it would be because of what the big players such as Starbucks and Nestle are doing.
Starbucks launched Via in China two years ago and is actively marketing it. Nestle has been marketing and would pour more resources into marketing their Nescafe brands.
This would inevitably push up the consumption of instant coffee.
The consumption pattern
One interesting finding in the report is the rise of RTD, in part due to the marketing of the various beverage company.
But, my thought is, it could also be due to the X and Y generation culture that looks for instant gratification.
They want their drinks and they want it easily and fast.
This is the culture that would fuel the growth of instant coffee as well. This product is a fit with the culture of the younger generation.
Thus, my thought is, moving forward, regardless how bad they say instant coffee is, this is going to be the growth sector.
And it would be the main income market for many companies for years to come with regards to coffee.