Carpenter and Cook Cafe | OCM cafe and cakes guide| Singapore
by Selina
(Singapore)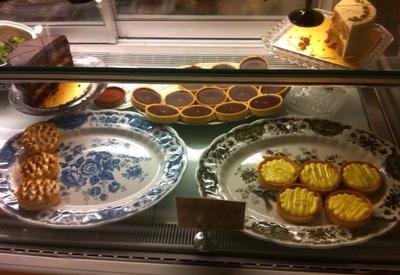 Carpenter and Cook tarts|Singapore Cafes and Cakes guide
Carpenter and Cook


Carpenter & Cook is a vintage home store and artisan bakery café, located in Upper
Bukit Timah, Singapore.
Everything they served is made fresh daily and produced in their store.
When we entered the café, it gave me this chic vintage feeling that brings warmth and character to the place. I love it that they have some unique items for sale (which I most probably won't buy but it's lovely to look at).
The best part of C&C is that they have a huge variety of pastries and cakes for sale as compared to other cafes that I had been before.
So if you are looking for a place to have an afternoon tea, this place tops my list. To heighten the experience, the food and drinks are all served on lovely crockeries with delicate patterns. Nice and friendly servers are a big bonus here.
Well, coming back to the main point , which is the taste of the food and drinks, we ordered passionfruit meringue tart, brownie and a berries cake.
The passionfruit meringue is really good. Not too sour, and the crust just melts in your mouth.
I tasted the passionfruit meringue first and after tasting something so good, I find the brownie and berries cake nice but was not blown away.
Maybe the effect might be different had I eaten the others first haha.
I find the price here pretty reasonable and yes, I will come back for more cakes and tea and, to try the coffee next time.
Lorong Kilat cafe - 19 Lorong Kilat #01-06
Singapore 598120
Ring us at 6463 3648
Tuesdays - Saturdays: 10am - 10pm
Sundays: 10am - 7pm
Closed on Mondays
Is this
Carpenter and Cook cafe
better than your favorite cafe? Share it with us!:)