Can you explain this? Maybe we were wrong about good coffee?
by chee Leng (on coffee makers)
(Singapore)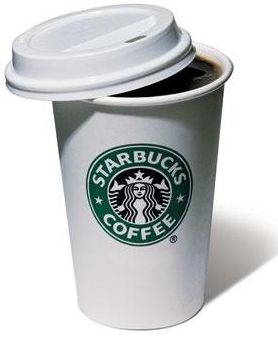 Starbucks coffee is good?
Coffee drinkers know that instant coffee is not good coffee, and many of us would never associate Starbucks with the term good coffee.


So, why it is that Nescafe (instant coffee) is still the largest coffee roaster in the world, which means they are selling far more coffee that anyone else.
If Starbucks is not good, why it is the largest coffee chain?
Most of us know that the above two companies while not every good at doing good coffee, are superb in marketing "good coffee". Their marketing poweress and reach is probably unmatched by any F&B company.
It brings me to ask this question: Good coffee, is probably what you think rather than what you taste?
Think about it folks, how many times have you hear Starbucks talk about good coffee? But, you would have heard many times about the Starbucks experience right?
I do not have a breakdown on how Starbucks is spending their money, but I would think renovation and making every outlet comfortable is taking up a huge chunk of their budget.
In fact, they go to great length to train their employees (about two years ago) by shutting their outlets nationwide in US for half a day.
That shows how much they valued experience. And that creates a perception that Starbucks is good coffee?
Of course, at the other end of the stick is Nescafe -low cost. They run promotions, discounts, bundle deals that shows you how cheap they are.
Oh, they even tell you that their coffee is Arabica, although I cannot say if freeze dried Arabica would still taste as good. Anyway, their products are the cheap
and good.
Does it matter? I think it does. Mc Cafe is just around for a few years and they have been making news.
Consumer loyalty to their coffee is the highest
based on a research done recently.
Is the coffee really that good? Nope, in fact even
McDonald's themselves tell you that is not good
. They enjoyed consumers loyalty simply because it is cheaper than other espresso and cappuccino.
Now, this is my $0.02.
We all know that the market leaders for coffee machines are not the espresso machines or the drip coffee machines, but the single serve coffee makers.
Main reason is their marketing. This year,
Keurig would be running full steam with Starbucks
in launching their machines worldwide.
And what Nespresso or Dolce Gusto missed out in their marketing campaign, I am sure Starbucks would do it better.
In less than 6 months launch in Singapore, people are asking if they should be buying a Dolce Gusto at home. They never asked about Jura capresso or Saeco that has been in Singapore for years!
And the folks that are asking cannot tell you what is the difference between a cappuccino or a latte, but they want to buy Dolce Gusto. Most of them don't even know that Dolce Gusto has coffee grounds instead of instant coffee!
That goes to shows how important marketing is. Sure, good product is important, but I think if I have $10, and I can either use it to make better products or use it sell my current product, I should likely be doing the latter.
Companies that focused on their marketing are clearly the winners, don't you agree?