Can I have a Grande Apple juice from Starbucks?
by chee Leng (on coffee makers)
(Singapore)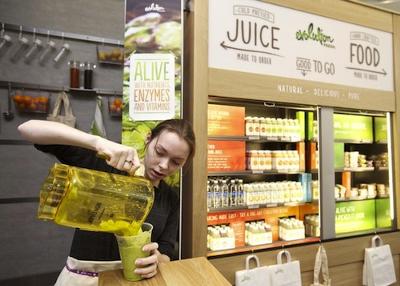 Fruit Juice from Starbucks
Starbucks is going to sell juice. To be exact, juice from a company known as Evolution juice. Prior to that, there are Starbucks house brand juice.


A Starbucks branded bottle that gives you orange or apple juice. This Evolution juice is different.
This juice is done by some high pressure processes and is said to retain most of the vitamins and other good stuff associated with fruits that are usually lost when one makes a juice.
And this venture cost Starbucks $30 million (the amount that it paid last year for the acquisition of this company.
While, this is new, it is hardly news because Starbucks has been doing interesting and new things this past one year.
It is selling alcohol in some outlets, it is
selling coffee in single serve pods (k cups)
, it is launching a new single serve coffee machine versimo (we would definitely cover that in another article) and of course it has tried some zen interior with its all wood furnishing.
But, this is a very calibrated move (in my opinion), rather than being an accompanied product, Starbucks is positioning its juices as a star by itself.
My $0.02
Think of it this way, if you are not a coffee drinker, it is unlikely that you would be stepping into a Starbucks. You don't drink coffee.
You would probably do it if you are with a group of friends, and then you might order a juice. That is an accompanied product.
With Evolution Juice, Starbucks have purchased ready customers. Now, there is some story behind the juice, it is packed with vitamins and other good stuffs.
Elements that health conscious consumers look for. With shrewd positioning, this could be the next big thing this year.
Now, when was the big launch of Starbucks K-cups. And guess when is the big launch for the evolution juice? Yes, in November this year.
Thus, just as Starbucks partnered with keurig to launch Starbucks k-cups into the homes of their fans, Evolution juice would be targeting an entire segment of healthy living folks.
November launch is apt because people that is when retail business is at its peak, maximum number of people would be exposed to this product.