Why choose Alterra Coffee Roasters for your office?
---
Oct 16 Special! Subscribe to OCM for a Starbucks report worth $39. 
---
Vouchers on augmented reality Apps (download ePrism to enjoy.)
Other F&B Services:  F&B marketing package and F&B Training
---
Alterra Coffee Roasters was founded in 1993 and started their first cafe in Milwaukee, US in 1994. EVer since, it has been their powerbase.

Retailing coffee has been their strong suit for more than a decade, but last year, after forming a venture with Mars Inc, they went into office coffee solutions.
Mars Inc, other than being very well known for their confectionery such as M&Ms are also very popular for their Flavia Coffee Machine (especially the C400 ).
With this venture, Alterra Coffee roasters's coffee as packed into what is known as Fresh Pack and marketed into tens of thousand over offices.
Of course, the reason why you want to get a Flavia Coffee Machine is very straight forward (it is free), but why this coffee?
---
---
Why would I want to choose Alterra as my coffee solution in office?
Cares for their coffee
These folks, do not work with coffee farmers, they go down to the farms to ensure that the farmers have the same level of passion, if not more for coffee.
Then, they work with roasters to ensure the optimum roast, they test to make sure that the quality of every pound of coffee is superb and consistent.
With the high level of care, the coffee you are drinking naturally is of a superior quality.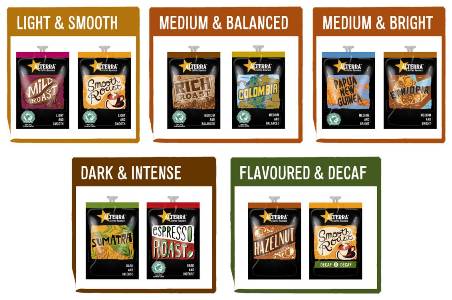 Cares for the community and environment
Nobody wants to be blame for hurting the environment or short changing some folks because of their coffee habits.
With Alterra, you know that every cup of coffee does not harm the environment (sustainable coffee, Rainforest alliance) and livlihood of the farmers are also taken care of.
Cares for YOU
This is the most important reasons why you want to choose Alterra coffee -the care it has for you.
Knowing that personal profile is important when it comes to coffee, they produced 4 very different segments:
Light and Smooth that gives a clean, refreshing sweet taste.
Medium and Balance that is best for the discerning palates.
Medium and Bright would give you a lively experience.
Dark and Intense gives an intense and full bodies experience.
This takes into account of just about all the taste profile.
Sounds like Alterra Coffee Roasters is the solution to have for your office? 
---
---
---