An undercounter coffee maker that does not belongs to black and decker?
---
Discounted Masterclass tickets | Vouchers on augmented reality Apps (download ePrism to enjoy dining vouchers.).
Other F&B Services:  F&B marketing package and F&B Training
Custom Search
---
When it comes to undercounter coffee maker, people immediately think about the Black and Decker Space maker. For, this particular article, we are not going to talk about that under cabinet coffee maker.

Instead, we are looking at one particular machine from brewmatic. It is the brewmatic mechanical stainless steel built-in 12 cup undercounter coffee maker (this link takes you to many more other types of coffee makers...)
One of the reasons people look for those space maker coffee makers from black and decker is because they wanted to save space and do not want their kitchen top to be clutter. So, these coffee machines were never designed to awed.
They look very ordinary and does not have any additional brewing capability, they brew regular coffee and that is about it. But, the brewmatic comes with a range of capability which is why I find it worth the discussion.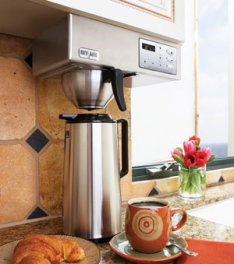 Ease of use is always top of my mind when it comes to kitchen appliances, and using the brewmatic coffee maker is very simple. All you need to do is to turn a dial to select the brew amount and then drink your coffee. You can select anything from 2 to 12 cups.
One of its value add is its ability to brew directly into a travel coffee mugs, which can contained up to 2 cups, a time saver in those morning rush hours.
So, in a way, this coffee maker is able to brew single serve coffee, albeit a much bigger cup, but no wastage right?
One of the reasons which this brewmatic undercounter coffee maker does good coffee is because of its unique brewing systems which would assure that coffee is brewed at an optimum temperature.
Do not worry if you have never heard of this brewmatic brand name, it has been around for 75 years, and this is what you look for when shopping for a B.I.C.A.
The acronym stands for Manual Control Built-in Coffee Appliance and experience in designing and manufacturing is crucial to ensure that the coffee machine works when it is installed unto your cabinet.
It looks good, brews great coffee and is backed by a company with a wealth of manufacturing experience, so if this does not make brewmatic a good coffee machine, what would right?

---
---
---