Spacemaker coffee maker: Black & Decker ODC 440
---
Oct 16 Special! Subscribe to OCM for a Starbucks report worth $39. 
---
Vouchers on augmented reality Apps (download ePrism to enjoy.)
Other F&B Services:  F&B marketing package and F&B Training
---
Mentioned spacemaker coffee maker and many people would immediately think of Black and Decker. The fact is, other than owning the trademark to "spacemaker", they are also the most known for their under cabinet coffee maker.

So, yes, this article is going to discuss about the black and decker ODC 440 spacemaker coffee maker. Most of us would agreed that in today's limited living area, having a coffee maker that is tuck away is great.
Not only does it saves you lots of counter space, you also do not have to worry about matching the coffee maker to the decor of your kitchen theme. But, why I do I say that it is a women best friend?
Let's take Black and Decker ODC 440 as an example. The first thing that any homemaker, and that means predominately women, would love the idea that it is hidden. It means that they get to design the kitchen in the way they like, and do not have to worry about fitting in a coffee machine.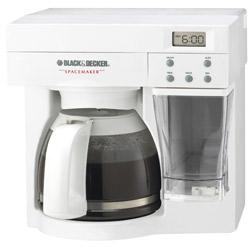 Then, because it is a under counter coffee maker, it also meant that the counter top space would be available. This allow our missy to purchase more gadgets to assist them in maintaining their household. And shopping is a hobby that no women would not like.
Other than these value add, the ODC 440 is also a programmable coffee maker, which meant that all that is required for a great morning brew, is keying in some buttons the night before.
And of course, if this lady is in charge of washing the coffee maker, she would be so happy to see the removable brew basket and water reservoir, that really make cleaning a breeze.
While, I am thinking along the line for homemaker and how the spacemaker coffee maker could add value and assist them in their work, it actually applies to anyone that runs their own household.
So, if you are looking for a coffee maker that does not take up space, easy to maintain and is able to serve you coffee without any effort in the morning, then the ODC 440 is one coffee machine you can consider....
---
---
---