Learnings from National Coffee Day 2018 Stats:
1 key element to drive Traffic to your F&B outlet
OCM (OnCoffeeMakers) started the first National Coffee Day campaign in 2015, since then, we have launched different campaigns with many different partners. For 2018, we launched Kopi Trail with Kaffa Kaldi Pte Ltd, giving consumers free coffee at 39 locations.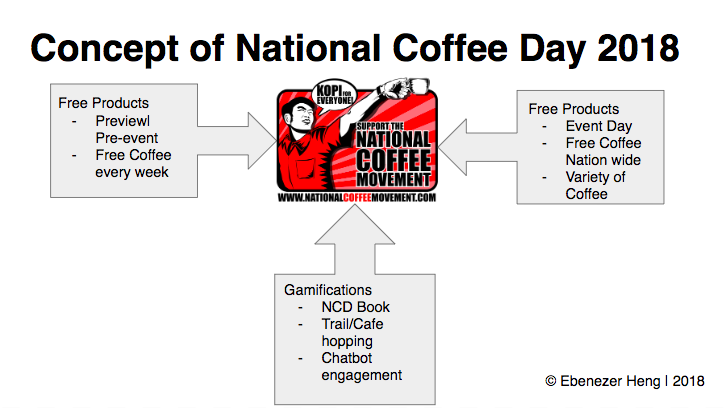 General Stats about National Coffee Day 2018 
Total Participants: 1200 
Locations in Singapore: 39 
Participating Brands: 22 
Total Number of Previews: 10 
Total number of hours: 8 
---
Case Study: Location Impact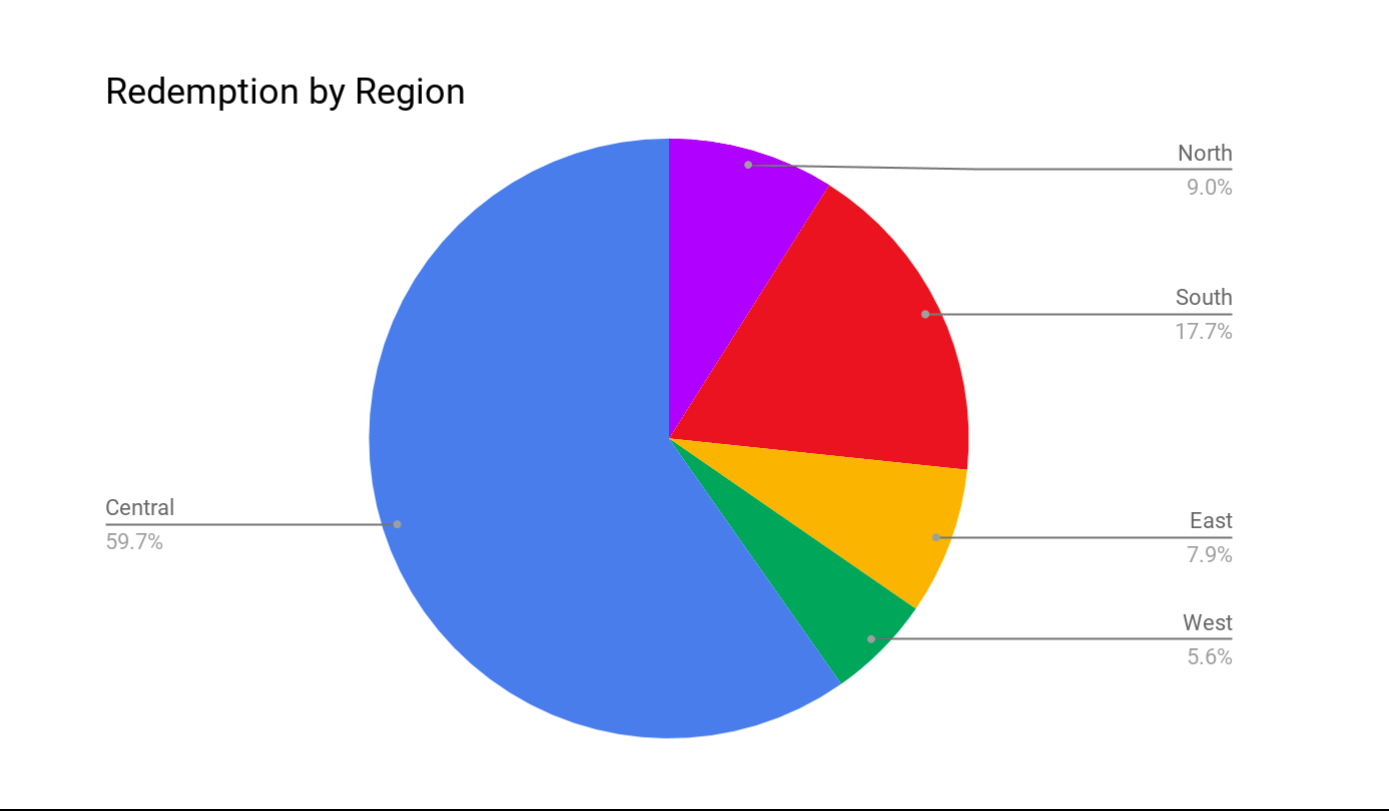 Prime Location 
Referring to the location redemption map, you will noticed that majority of redemption happens in the central of Singapore, with more than 50% of the central area redemption taking place in Bugis area. 
For the pre-event, it is the similar situation except that the redemption is much lower. 
Heartland and outskirt of town
You will noticed that in the redemption map, F&B outlets outside of the central location receives much lower redemption. 
For the pre-event, many outlets experienced no redemption at all. This is despite the fact that some outlet (including an F&B within an established hotel) is offering drinks that cost above $10.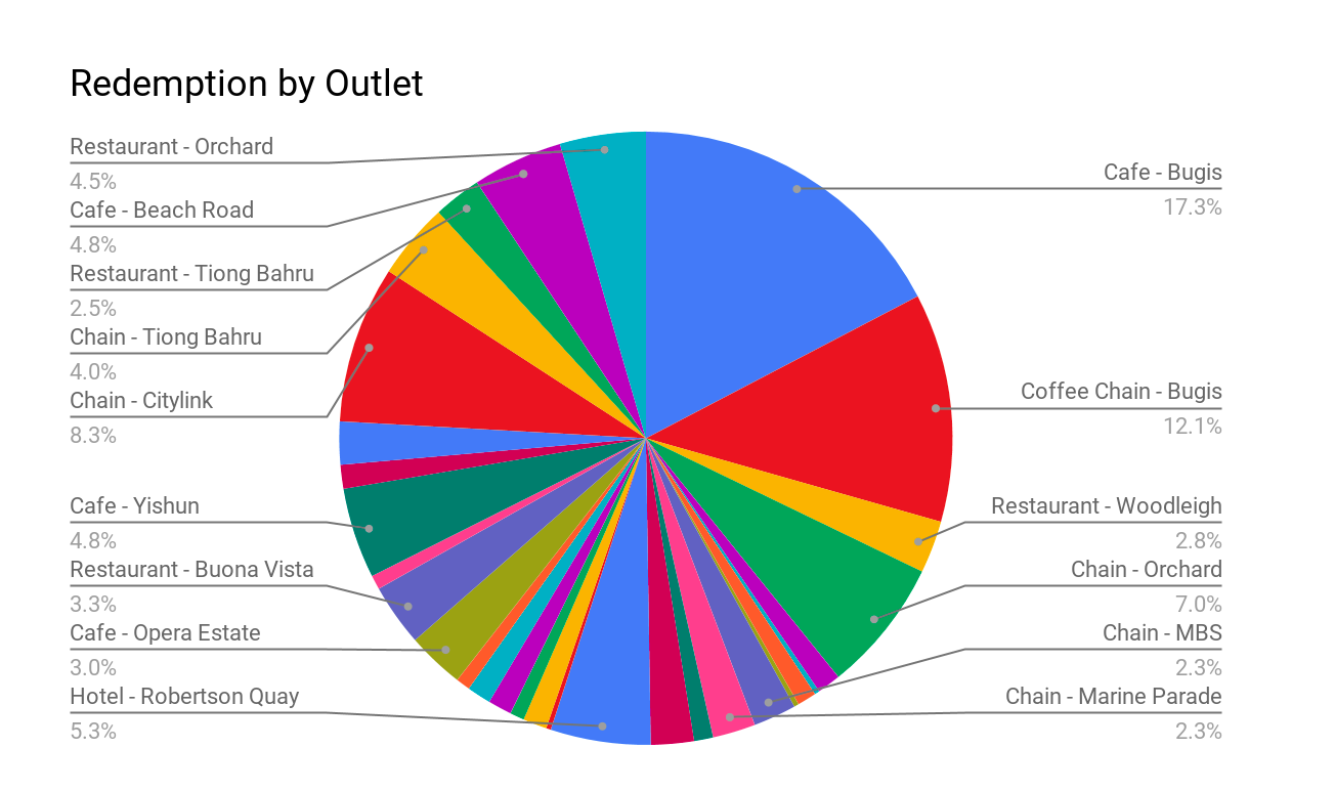 Differentiating variable 
The only difference between pre and actual event is the activity. The SG cafe guide with chatbot redemption and the different cafe hopping trail that participants can enjoy is seen in this case, a likely driver for traffic to heartland and outskirt F&B outlets. 

---
Case Study: Value/type of Giveaway 
For National Coffee Day 2018, we have a good mix of 22 different F&B brands. It includes, speciality cafes, restaurants, Quick Service Restaurants, hotels. If you refer to the redemption and consumption, you will noticed that restaurant has the highest number of redemption. 

In terms of giveaway, speciality cafes and even hotels are given away beverages with a higher value tied to it. However, most participants are happy with a black coffee given by the restaurants. 
Differentiating variable 
We noticed that the restaurants are accessible, most restaurants settings are comfortable, and are situated  in prime locations. 
Thus, we can conclude that consumers are  gravitated towards giveaways, the place of consumption is an important variable. If the setting is not desirable or comfort level provided to consumers is low, then the outlet will have a higher chance to draw consumers in an activity campaign, leveraging traffic flow from other F&B establishments.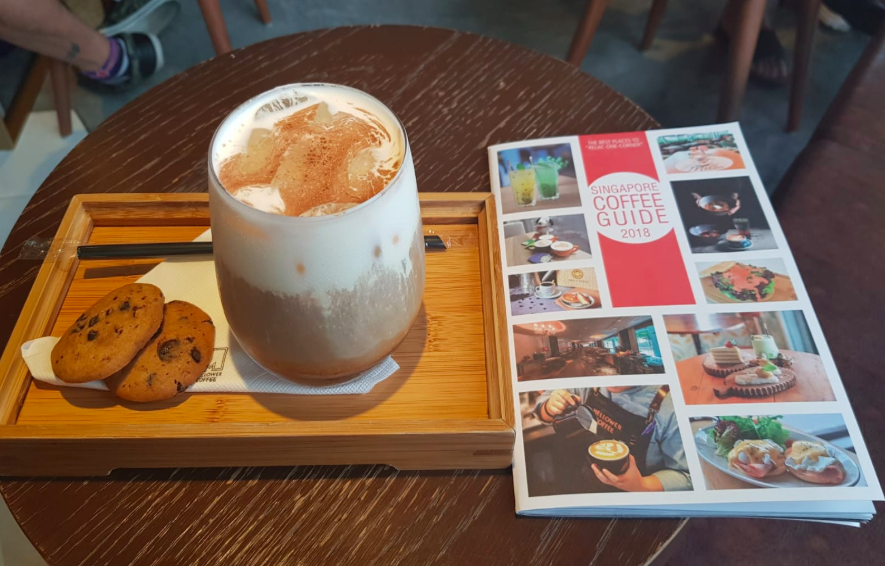 Moving Ahead 

In a marketing campaign, the consumers will first need to Know (K) you, before you progress them to repeat visit to like (L) you and of course you hope that they will trust (T) your brand so much and becomes your advocate. 

In National Coffee Day 2018, for a few weeks, we tested and collected some stats. The main element that drives traffic to even far flung outlets is campaign/activity that is Nation-wide. 

Moving ahead, we will launch a 52 weeks campaign, where we will drive traffic to your F&B outlets on a weekly basis. With this, it will allows us to better understand the consumption pattern allowing you to learn more about your audience and calibrate your own marketing campaign accordingly. 

About Us 

OCM (OnCoffeeMakers) have been planning and executing marketing campaign focus in the food and beverage domain for more than a decade. Using our own community of more than 300 000 followers, we launched and tested marketing campaign for our partners and stakeholders. 

Follow our Page for more update on sharing session about upcoming campaigns and workshops. Drop us a line at below if you are keen to join our upcoming campaign.  

---
---
Enjoy: Free Coffee near you (Free Coffee in Cafe/F&B)

Enjoy: Free Office Coffee Machine (+ enjoy $1200 vouchers)
Popular: Augmented Reality Class | SkillsFuture | Temasek Polytechnic 
---
---
Other Coffee Day Events
National Coffee Day 2018
Some of the photos and events that happened during the 2018 coffee movement. More than 1000 people visited the 30 different locations spread throughout Singapore in September 2018. Learn more about 2018 Coffee Day.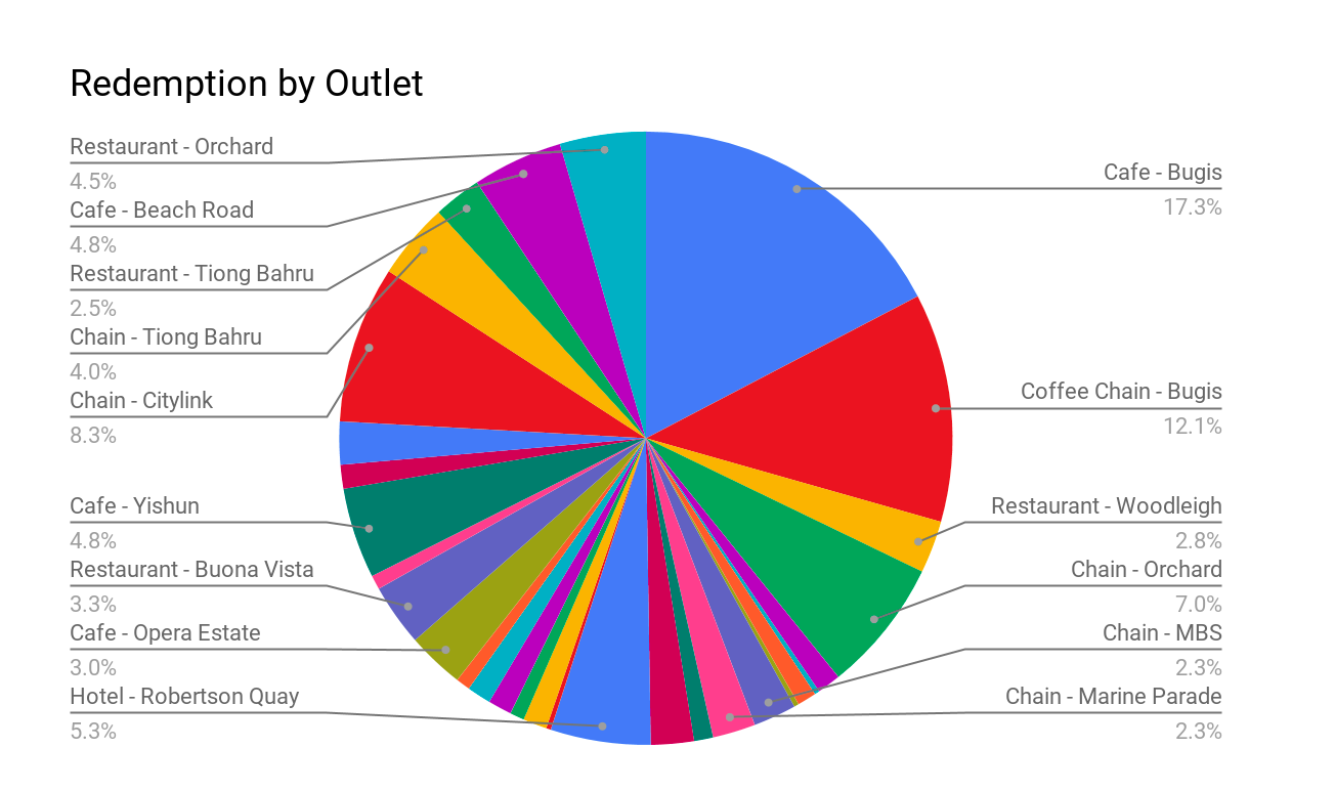 ---
National Coffee Day 2017
Some of the events and cafes that happened during NCD 2-017. 
---
National Coffee Day 2016
Learn more about the activities that we did during coffee day 2016 and the cafes that join us: NCD 2016
---
National Coffee Day 2015
---