Where to open a coffee shop | Singapore Case Study
Where to open a coffee shop is a critical question that determines your revenue and expenses (rental). This article will look at it from an ultra-competitive market - Singapore. 
A look at the F&B retail competitiveness in Singapore: 
Deciding where to set up your dream coffee shop** business is a pivotal decision that significantly influences its success. The coffee shop location, especially within renowned Singaporean shopping malls like Tampines Mall, VivoCity, and Takashimaya, holds the key to thriving in this vibrant retail landscape.
Dive into the eight essential factors below that amalgamate your coffee shop aspirations with the bustling ambience of these shopping destinations.
**Coffee shops have different meanings in different South East Asia. The coffee shop is also known as Kopitiam in this region (a slang of the local Chinese Dialect), and they offer Robusta coffee roasted with butter and sugar, known to the locals as Kopi. 
The Eight Essential Factors on finding coffee shop location
---
---
1.Buyer Persona Research
1. Buyer Persona Research (Intent Research) 
Begin by delving into the "who" of your target audience among Singapore's diverse populace, aligning with the preferences of college students, parents, shoppers, and professionals.
A person buying coffee in Shenton Way is totally different from one buying coffee in Sembawang. 

To make it even more complicated, the demographic is not the only thing affecting the buying decision; the circumstances can also affect it. 

 For example, a 40-year-old male might grab a long black to work in Shenton Way but get a latte while chatting with friends in Sembawang Mall. It is best to research the audience persona on the location that you are looking at using JTBD (jobs to be done). 
Read more on JTBD and Buyer Persona:
Here are some variables that you can use to build a buyer persona for your coffee shop: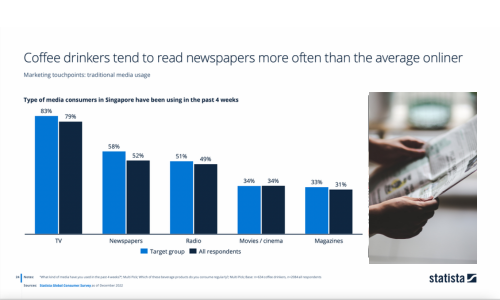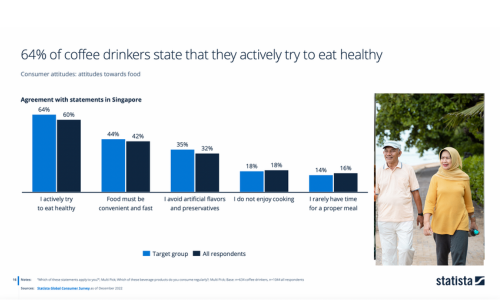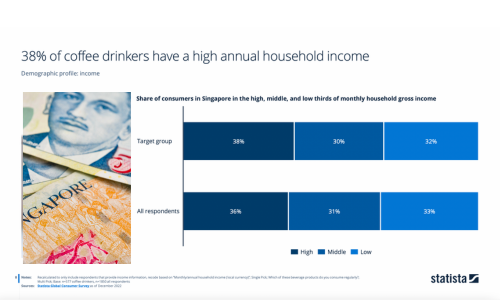 Go to:
---
2.Campuses/Colleges/Schools
2. Campuses/Colleges/Schools (Proximity Advantage) 
Position your coffee shop near universities to cater to students seeking a quality caffeine fix during intense study sessions. The reason that they look for a coffee is simple; they need to stay awake. 
2a. School Proximity:

Connect with parents and teachers by locating near primary and secondary schools, offering a quick pick-me-up while dropping kids in school or on the way to schools (for the teachers). 
The main disadvantage for an education entity location is that traffic fluctuates with the school's academic year, e.g. sales are dependent on when the school is operating. 

Go to:
---
3. Shopping Malls.
Capture the synergy between shopping and coffee by settling within bustling shopping malls like VivoCity. When opening a shopping mall location, do note that the need for coffee is less than the need to relax at the place. 
The experience and the cafe set-up are vital to attracting customers. 

Also, even within high-traffic malls, there are areas with low footfall; thus, knowing where traffic flow is within the shopping mall is critical. In the two shopping mall reports below, you can see that the intent of people going to Takashimaya and Vivo City is very different. 

3a. Neighboring Businesses

Position your coffee shop near complementary businesses to create a mutually beneficial ecosystem and enhance foot traffic.
 For example, knowing that people intend to patronize a Chinese restaurant in Takashimaya, can your cafe leverage it with a location near them? 
Or, for Vivo City, many parents intend to bring their kids to Time Zone to play games; a location near there for the parents to rest and chill while waiting for the kids would bring good revenue for the cafe. 

These reports go one level deeper by showcasing the intent of people going to the mall, and if you track it every month and the purpose (search) is the same, then you can add value to this particular customer journey map. 

**Report on Takashimaya + Vivo City. 

3b. Synergistic Alliances:
Forge partnerships with nearby bakeries, sandwich shops, gyms, and boutiques for a dynamic business ecosystem.
It is also within a shopping mall or a neighbourhood mall (e.g. Tampines Mart) that it is possible to forge a cross-marketing campaign with unrelated partners, e.g. a Coffee Chain having a joint partnership with a children's Art Studio. 

The idea is to leverage each other's traffic and benefit from the time the customer spends at the location. 

3c. Bookish Environments:

Align with bookstores and libraries to create cosy reading and studying nooks complemented by your coffee offerings.
Go to:
---
4.Corporate Connection
4. Corporate Connection
Thrive within business districts, providing a haven for professionals needing a coffee break: For example, Shenton Way, the heart of the Business District. 
In the business district, the customers' intent is functional, e.g. grab a coffee to keep me awake for the day. The choice of location is best determined by observation study, the journey map of how one leave their transportation then proceed to their workplace, e.g. hole-in-the-wall with take away concept along transportation hubs, near to office buildings have a clear advantage.

The business district's highest revenue remains to be the morning coffee grab. 

Go to:
---
5.Transportation Hubs
5. Transportation Hubs
Seize opportunities where customers wait, like transportation hubs such as bus interchanges and MRT stations, to maximize sales. In Singapore, these retail locations are usually operated by the SMRT or SBS. The revenue for this area is driven by the number of passengers (peaking in the morning and evening), and the ability to add convenience to the traffic (pre-order coffee) is critical to boosting revenue. 

5a Early Birds and Commuters

Capitalize on the morning rush by catering to early risers and commuters seeking caffeine jolt. The usual workday morning starts at 6 am (the first bus/train in Singapore begins at 530 am), so getting ready for all the pre-orders and coffee ensures capturing the "early birds". 
5b After-Hours Charm

Extend your hours to cater to night shift professionals, offering respite and caffeine for their late shifts. Similarly, extending the hours enables cafes to capture the audience needing a coffee later in the day. 
For transportation hubs, conveniences and being available is the key. 

Go to:
---
6.Competition
6. Competition
Survey the competitive landscape to ensure your coffee shop offers a unique proposition amid the thriving coffee culture of these malls. 
There is a trend in opening food and beverage outlets based on food trends, e.g. Bubble tea and in many malls, Japanese and Korean cuisine have an overwhelming number of outlets. 

 Take note of your competition and consider your value proposition: 
Other recommendations to enhance your value proposition: 

6a Distinctive Menu Planning

Stand out from established chain stores by crafting a unique, high-quality menu. Delicious and quality food is a crucial customer driver for a cafe. 
6b. Family-Oriented Allure

Cater to parents by locating near family-focused venues, offering a caffeine boost during family outings. Having activities for the kids is also another draw for families to visit your cafe. 
Go to:
---
7.Dollars and Cents
7 Dollars and Cents
Balance your financial considerations with the location's cost of living to maximize profitability.

Here is a breakdown on the various cafe rental variable: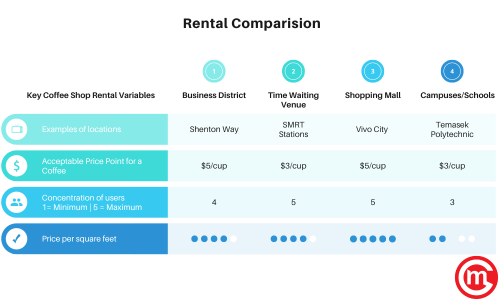 For more cafe start up information, check out our cafe start cost calculator. 
Go to:
---
Get A Free Consumer Intent Report
Choosing the right coffee shop location within Singapore's premier shopping malls requires a meticulous blend of strategy and passion. Each factor, from demographics and competition to neighbouring businesses, traffic times, and cost considerations, contributes to your coffee shop's narrative. 
By seamlessly weaving your coffee shop's vision with the distinct character of these malls, you can cultivate an enticing destination for coffee enthusiasts, ensuring a successful coffee shop venture in the heart of Singapore's bustling retail scene.

For more articles like "Where to open a coffee shop", check out our research, reports and lectures via that link if you are keen to chat with us on a more in-depth session on how to cafe location, operation or optimise cafe business, drop us a message below. 

---
---
Go to:
---
About US | OCM Profile
OCM (OnCoffeeMakers.com) was started in 2007 with the first webpage about coffee machines. And for a number of years, we focused on helping people find their desired coffee machine (we still are helping folks with that! So, if you are looking for coffee machines for office or restaurants - check out the link). 
In 2010, we started getting enquiries on restaurant marketing and we start to help food and beverage brands with their marketing. Below are campaigns and events that we have done over the years: 
OCM's campaigns: F&B Marketing Ideas by OCM 
OCM's Events: F&B Industry events by or with OCM
Check out this restaurant marketing guide to learn more about the many campaigns and companies we have worked with. 
Since then, we have also created many marketing workshops and classes for the F&B industry. Many of these modules are still running in tertiary institutions such as Temasek Polytechnic Skillsfuture Academy and also ITE College East COC classes, below are some snippets of our lectures and workshops: 
OCM's F&B workshops: Food and Beverage Marketing Lectures | Workshops - click to watch classes on customer journey map, JTBD and more. 
So, if you are looking for industry practitioners to help you scale your coffee or F&B businesses, do drop us a message or book an appointment. Do also check out our various social media platforms on regular F&B and coffee market updates: 
For regular coffee (F&B) related videos: OCM Youtube
For Daily Coffee Inspiration (fun coffee content): OCM IG
For insights into the coffee (F&B) industry: OCM LinkedIN 
PS: For the coffee lovers, we continue to share coffee articles (and videos) and have also started a free coffee class section (with free online coffee training supported by coffee partners).

---