How to start your own coffee brand in 3 simple steps. 
There are two categories of people that asked this question: How to start your own coffee brand: 
Veterans in the coffee industry


People without any coffee or F&B experience wanting to build a coffee business 



Both groups of people believe that selling coffee beans and being in this coffee business holds a lot of potentials and they can generate good business in the like of Starbucks, Blue Bottle etc. For folks that want to know if there is any potential in the coffee business, note: US consumers spend more than $70 billion in 2015 (source: ncausa.org), so you decide if it is potential. 
It does not matter which category or how sure you are about starting your coffee brand, here we list out three simple steps to have better success in growing your coffee business.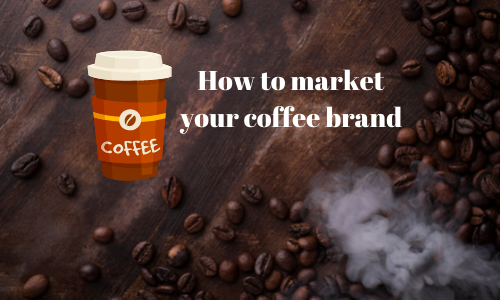 Step 1 Market 
You might fell in love with the coffee beans from some coffee roasters and wanted to OEM it or maybe even work with coffee farms to start your coffee brand. Regardless, the first step you need to ascertain is the attractiveness of your market. 
Even as you love a particular estate or roast so much, how many other people share your sentiment. A good benchmarking tool is to build up your audience persona and their customer journey map as they go about buying coffee. 

This exercise will help you with the activities, pain and gain of your target audience giving you a clearer image of the need of your customer. 

Below is an example of a customer journey map on Starbucks. 

---
Step 2 Method 
Once you are sure of your target market, there are two ways to build a coffee brand. 
Coffee Roaster - as a roaster, you will need to source, you roast and of course market your own brand of coffee beans. There is a growing segment of coffee brands that outsource the sourcing and roasting of coffee brands as well. 
Drop Shipper - as a drop shipper, you do not source or roast any coffee beans. You curate and sell for other coffee beans roasters. This is a good way to do a pilot project on a target market as well. 

---
Step 3 Marketing 
It does not matter which method you choose. You will need to get the word out about your coffee business as much as possible. 
Below are some popular (even evergreen method) that coffee companies used: 

Email marketing - marketing to a list (initially on other people list) then ultimately your own list. 
Search engine marketing - buying adverts on various websites and Google to increase your reach and get traffic to your business. 
Social media marketing - posting it on your social media pages and engaging the help of industry experts to share your business on their pages as well (influencers marketing). 
Below is an example on how MacDonald successful use of intangible marketing. 
If you have a coffee business, submit it below, we will be more than happy to do a shout out for you. 
Read about other offline and marketing methods in our restaurant marketing guide as well. 
And that is a simple three steps on how to start your own coffee brand if you like to look for other similar articles, do visit our home page. Or, drop us a message to have a chat with us about your coffee needs. 
If you want to feature your coffee business, submit your image and some write up, we will contact you once it is featured. 
---
Send in your coffee (F&B) brand to get featured
Write here about your coffee (F&B) brand (your cafe (or F&B), your coffee beans or your coffee machines). And we will feature it on our IG page as well (remember to send in nice photos too!:)