Socks and Pans | Market Street | Singapore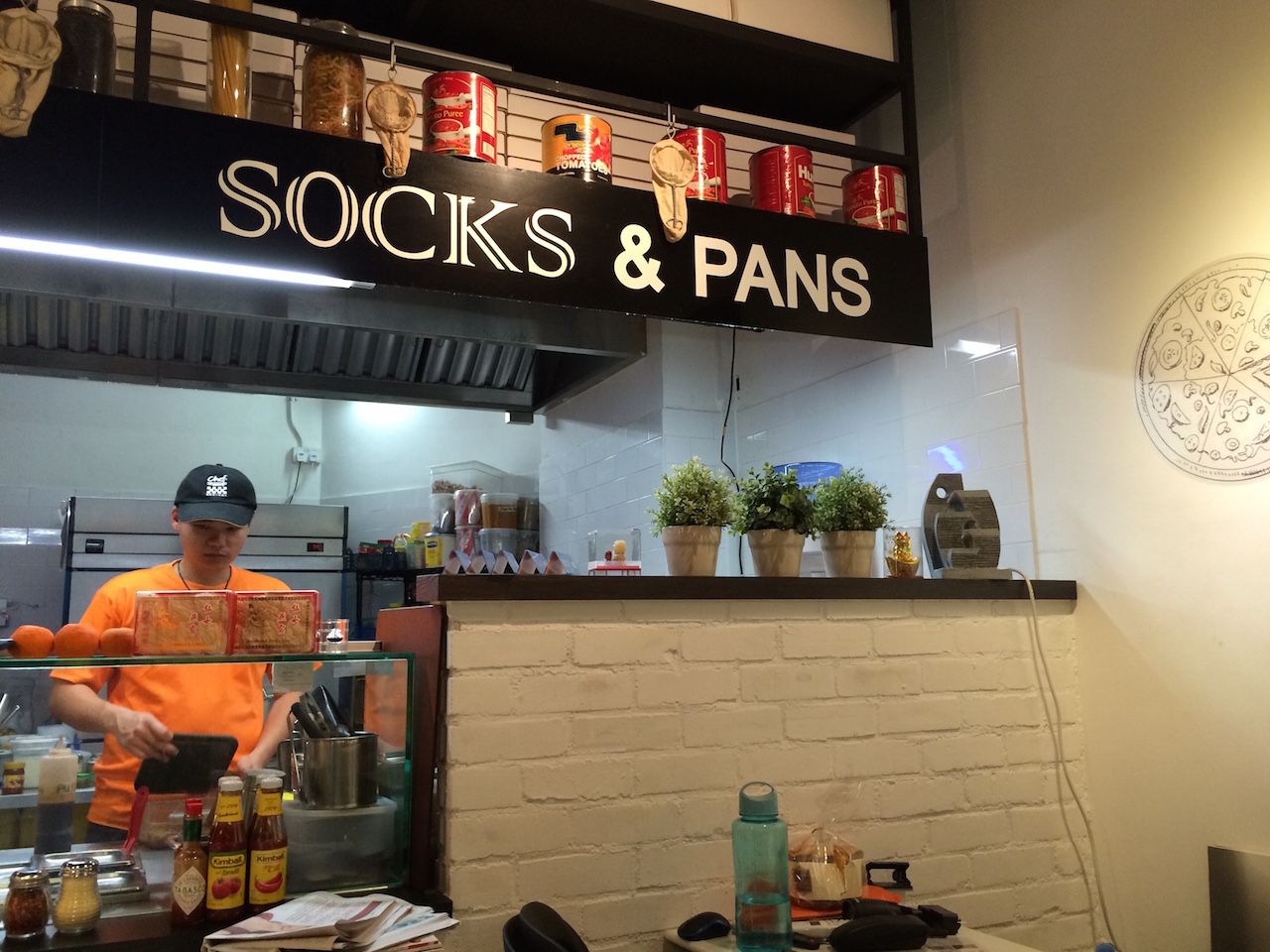 ---
Oct 16 Special! Subscribe to OCM for a Starbucks report worth $39. 
---
Vouchers on augmented reality Apps (download ePrism to enjoy.)
Other F&B Services:  F&B marketing package and F&B Training
---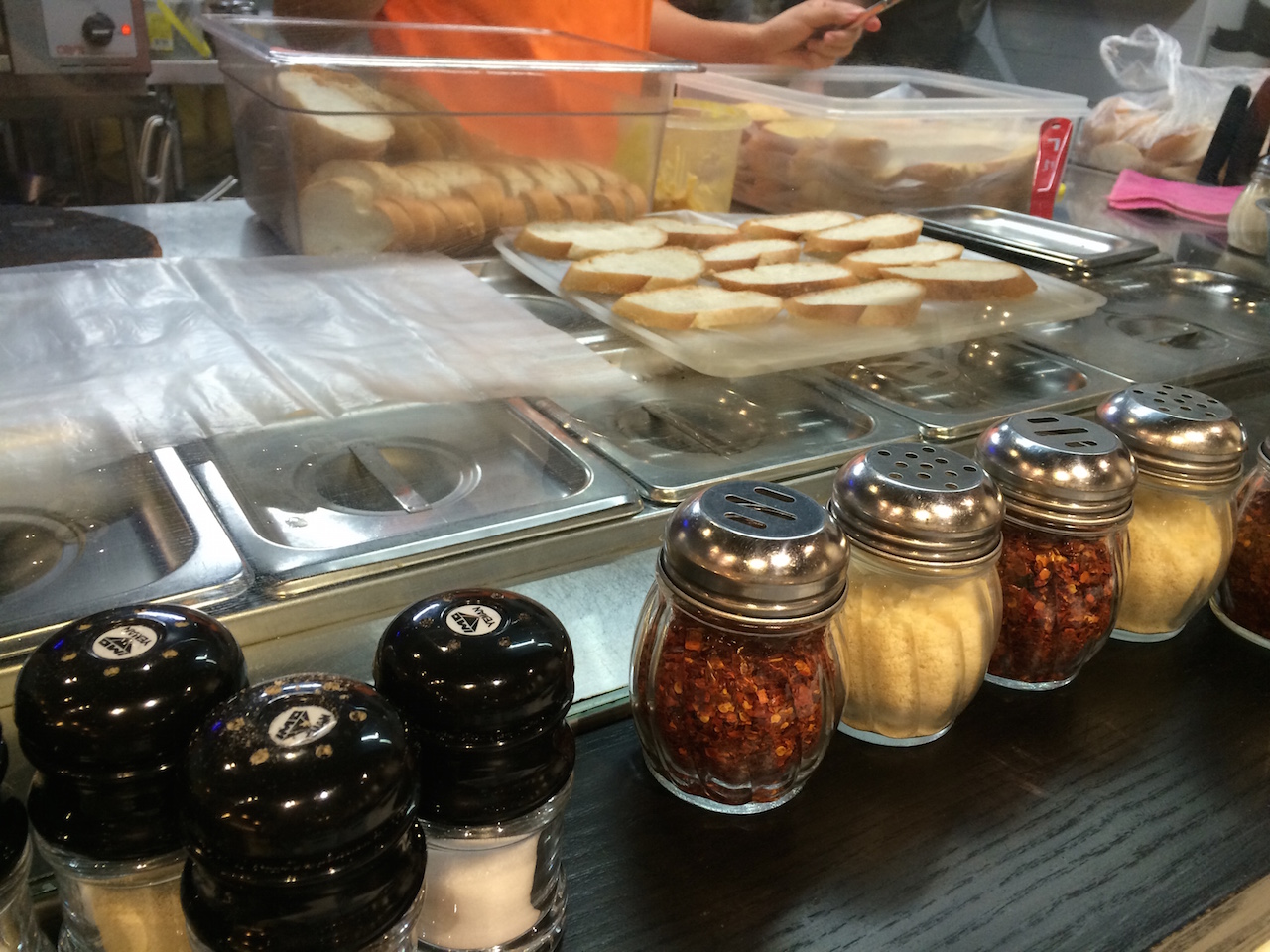 Right in the heart of Raffles Place, Socks and Pans is a simple retreat from the hustle and bustle outside. It is not only a delight to coffee lovers, but also to those looking for quality breakfast and meals that's value for money in the CBD.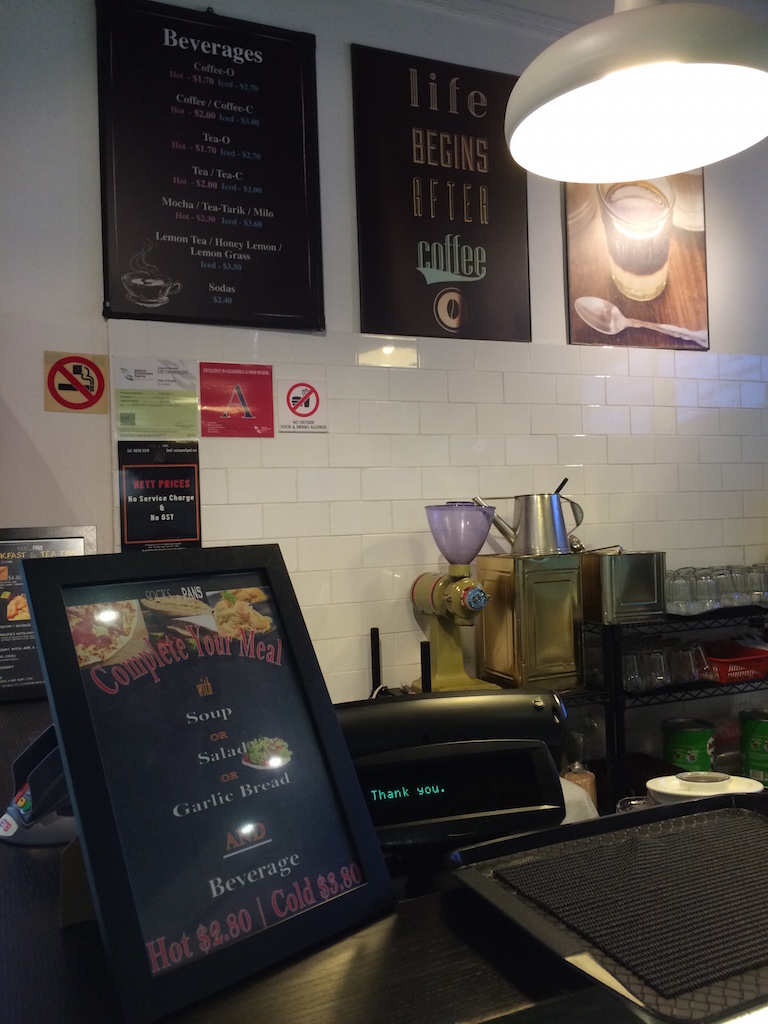 Socks & Pans is a catchy name that the owners adopted from the traditional fabric filter socks used mainly in the local coffeeshops to brew their coffee paired with fusion pizzas. Their coffee beans are roasted in Singapore and blended on site to ensure freshness and rich aroma and flavour in every cup.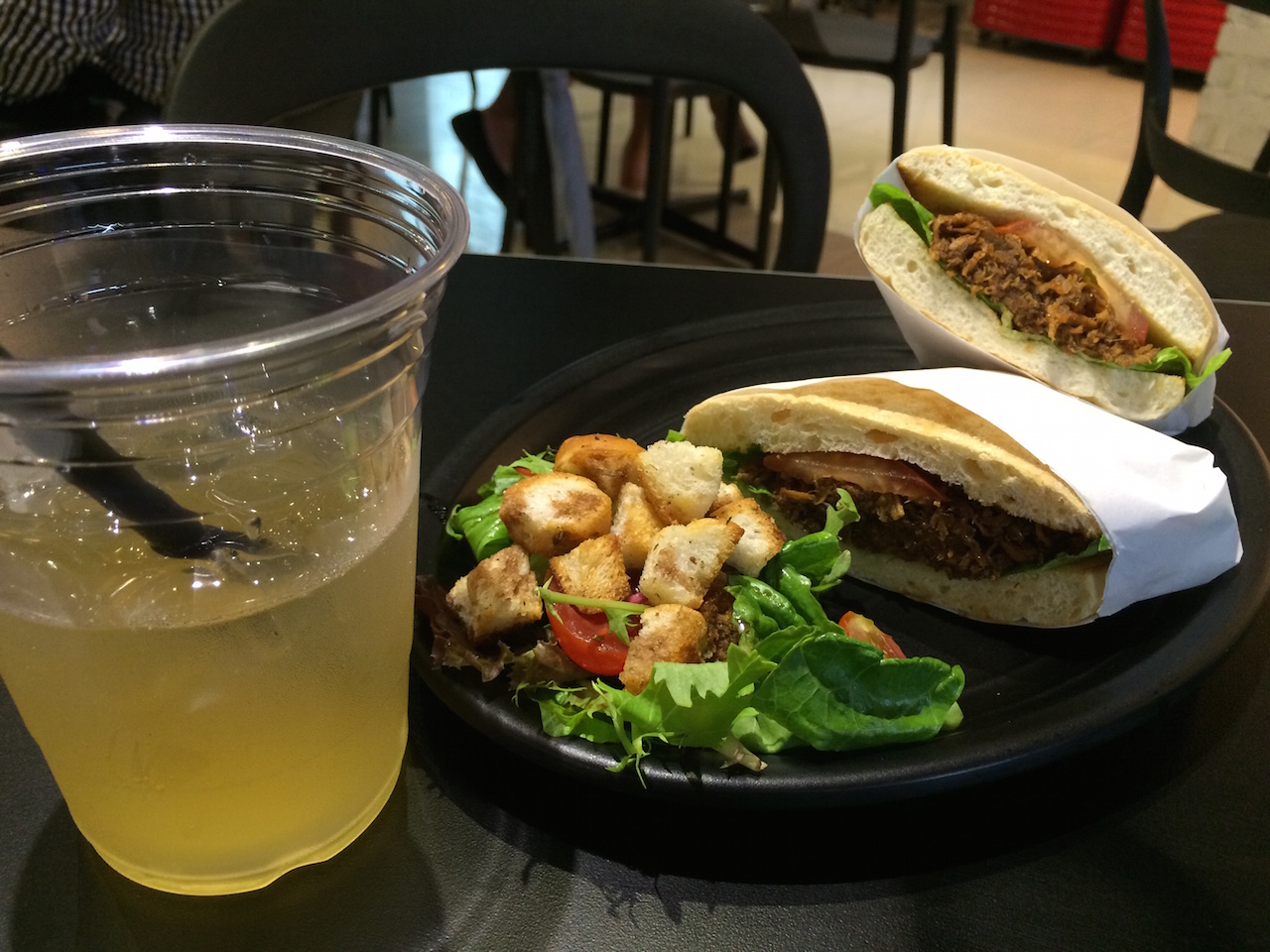 If you want to try thin crust pizzas with truly Asian-inspired toppings, go for their Tom Yum fish, Asian-Pulled Pork or spicy Hebi-Hiam with soft tofu! I haven't tried such pizzas before; the closest I ever tried was satay chicken pizza.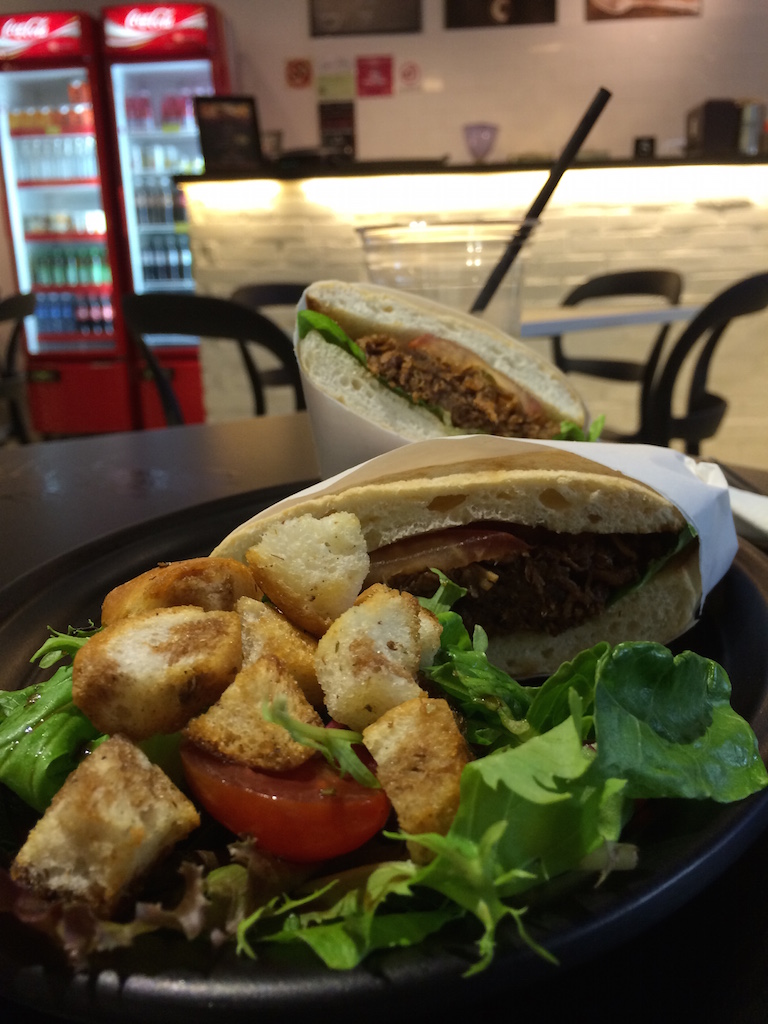 They also serve sandwiches, freshly made with soft white bread with a good variety of fillings to choose from. I tried their specialty Asian Pulled Pork sandwich($9.80) that's like the equivalent of 'Kong Bah Pao'  in Chinese restaurants, marinated with a sweet flavoured sauce, painstakingly shredded to give an ultimate 'porky' experience.   There's also a generous serving of salad for a healthy balance. The iced Lemon Honey ($2.30) complemented my sandwich well on a hot sunny afternoon.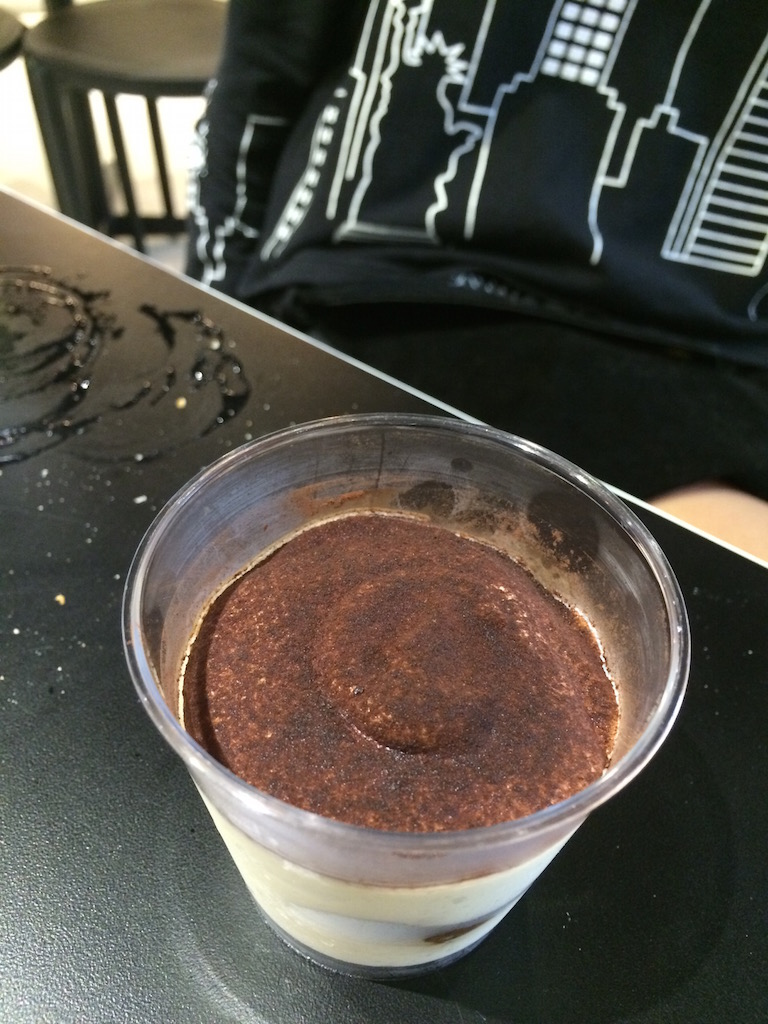 To complete your meal, you might want to try their in-house Tiramisu, specially prepared by Bing, one of the partners. It's quite yummy when you reach the bottom for that nice fusion mix of both Bacardi Rum and local coffee. 
Socks and Pans Information: 
50 Market St #01-23, Singapore 669954
Mon - Fri: 8:00 am - 8:00 pm
Sat: 10:30 am - 6:00 pm
What are the menu items you tried in
Socks and Pans at 50 Market Street
? Do share with us your thoughts on this or any other cafes.
---
Cafes in City (Town)
Orchard Road 
Dean and Deluca @ 181 Orchard Road 04-23/24
Saveur @ 14 Scotts Road 01-7B (Far East Plaza)
Costa Coffee @ 313 Orchard Road 01-29 
Cafe Mondo @ 181 Orchard Road 02-31/32
---
Orchard Gateway
Criollo Cocoa Cafe @ 277 Orchard Road 02-01 

Supply & Demand @ 277 Orchard Road #02-13/14
Ollie Cafe @ 277 Orchard Road B2-10 
Dhoby Ghaut 
Bricks N Cubes @ The Cathay, 2 Handy Road 02-12/14

---
North Bridge Road
Cake Delights Bakery @ 664 North Bridge Road
Rabbit Owl Depot @ 420 North Bridge Road 01-06
Twenty Grammes @ 753 North Bridge Road 01-01
---
Market Street & Hong Kong Street 
Socks and Pans @ 50 Market Street 01-23
---
City Hall
Dazzling Cafe @ 15 Stamford Road | Capitol Piazza
---
Arab Street | Baghdad Street | Haji & Bali Lane
La Marelle Cafe & Boutique @ 25A Baghdad Street
Royz Et Vous Cafe @ 17 Bali Lane 
Shop Wonderland -The Pantry @ 37 Haji Lane
Middle Road 
Stuttgart Blackforest @ 141 Middle Road 01-01 (Closed)
---
Lavendar
The Coffee Shot @ 103 Lavender Street
The Tiramisu Hero Cafe @ 121 Tyrwhitt Road
The Bravery Cafe @ 66 Horne Road
Jalan Sultan

Toots Brasserie @ 101 Jalan Sultan 01-01 
Artistry Gallery Cafe @ 17 Jalan Pinang 

---
Kelantan Road

Molly Coddle Cafe @ 30 Kelantan Road 01-99 

Owen Road
House of Commons @ 138 Owen Road
---
---
---