Office coffee makers - Keurig B2003
---
Discounted Masterclass tickets | Vouchers on augmented reality Apps (download ePrism to enjoy dining vouchers.).
Other F&B Services:  F&B marketing package and F&B Training
Custom Search
---
There are Gaggia coffee makers, Delonghi coffee makers and Keurig coffee makers that are all marketed as leading office coffee machines.

Which, however, could be regarded as the best amongst these coffee makers? That would be a very hard question to answer as many of these office coffee makers have features that could tilt the decision one way or another.
In any case; to define which criteria would have to be included to be able to decide which is the best office coffee machine would be an enormous task.
It is certainly far easier to define a favourite amongst the office coffee machine. My favourite would have to be one of the Keurig Brewing System range.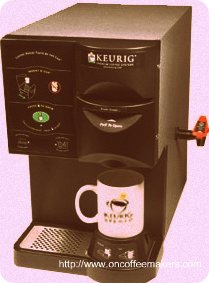 I say one of them because there are at least two I would want to consider in the final line up to e my favourite.
One of the Keurig office coffee makers is the B2003 Keurig Brewing System. This office coffee maker is a compact unit that runs using the famous Keurig K-Cup system of easy serve espresso single serve pods.
The secret of course is that the pods are able to produce far more than espresso at the touch of a button. Keurig offers a whole range of K-Cup products which include coffees, teas and hot beverages from around the world.
The B2003 is also a great office coffee machine because it has water plumbed in. This means there is no wasteful refilling of water reservoirs with water splashing every where.
Neither does one need to constantly monitor the bean hopper as the system uses the single serve cartridge concept. It is easy to use and consistent in delivery.
That is why it is one of my favorites. The other contender has to be the B100P Keurig Brewing System. Whilst it may look like one of those fancy domestic red coffee makers, it is in fact a serious one of the smaller office coffee machines on the market.
It is not designed for the high volume that the B2003 is designed to cater for. The B100P, which also features a plumbed in water supply, is geared toward the slightly smaller office or staff complement.
Like its "bigger brother" the B100P is also designed to make use of the K-Cup system of easy serve pods. This office coffee machine requires a more hands on approach as some of the automatic systems of the B2003 are manually operated with the B100P.
Maybe for this reason I would tend to lean towards the Keurig B2003 Brewing System as the favourite amongst office coffee makers.
---
---
---