Fresh Fruits lab | Cafes in the East -Changi | Singapore
---
Discounted Masterclass tickets | Vouchers on augmented reality Apps (download ePrism to enjoy dining vouchers.).
Other F&B Services:  F&B marketing package and F&B Training
Custom Search
---
Owner of Fresh Fruits Lab, Jaz Tan, is an ardent fan of fruits and has a simple fruity focus as her personal trademark. I am trying to watch my weight lately so this cool café is right at the top of my café list to visit. ( Read about other cafes in Singapore East)
The menu is specially designed and handcrafted to incorporate a fruity element in many of the dishes. Customers are also presented with a an of fruitscomplimentary fruity concoction to sample while waiting for their order . They can also experience a new fruit inspired blend every now n then as FFL is all about experimenting new concoctions that customers can enjoy.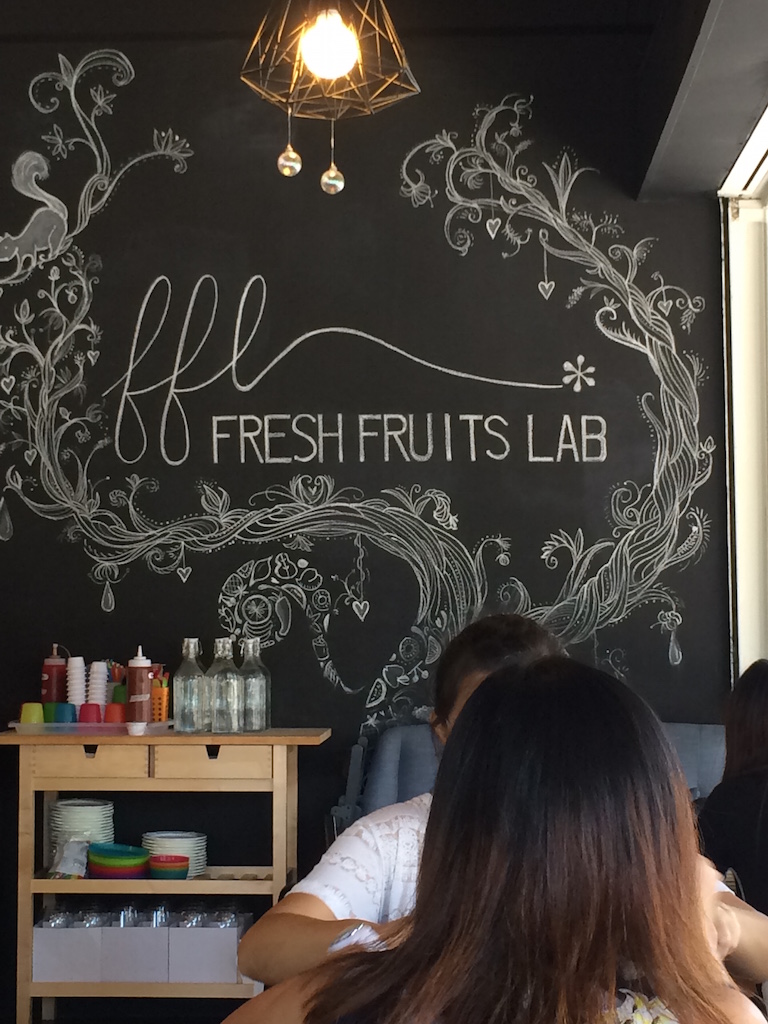 An aesthetically appealing huge black board with a blend of floral, fruity design greeted me the moment I stepped into the café. I felt absolutely at home and totally welcomed. During the time I was there, I saw a steady stream of cafe hoppers enjoying their meals. When you come and patronise FFL , then you'll know why they draw in the crowds.   
I couldn't resist having a Red Velvet Cake ($6.50) when I saw the red layered cake topped with delicious cream cheese and I am glad I did. This is so irresistibly good with the right amount of moisture and fluffiness and I savoured every bite. It wasn't too sweet nor too rich. There goes my plan for a healthy diet at Fresh Fruits Lab and I have to say the sample fruity concoction was a refreshing one. I will be back to try more fruity dishes and drinks.
Fresh Fruits Lab
351 Changi Road, Kembangan, Singapore 419818
Opening Hours:
Tue - Thu: 11:00 am - 10:00 pm
Fri: 11:00 am - 11:00 pm
Sat: 10:00 am - 11:00 pm
Sun: 10:00 am - 10:00 pm
Phone: 6677 6741
---
Cafes in the east of Singapore
Old Kallang Airport | Kallang | Whampoa
Maple & Market @ 34 Cassia Crescent #01-82
The Hideout @ 32 Cassia Crescent 01-50
Tian Kee @ 12 Dakota Crescent 01-48 
Careshop De Cafe @ 70 Bendemeer Road #01-05
 Backstage Cafe @ 158 Kallang Way, 01-06
Cafe Melba @ 90 Goodman Road 01-56 Block N (image) 
Delcie's Desserts and Cakes @ 34 Whampoa West 01-83
---
Tanjong Katong | Joo Chiat
Do.Main @ 226 Tanjong Katong Road
Laneway Market @ 266 Tanjong Katong Road
Toothsome Cafe @ 368 Tanjong Katong Road
With a Pinch of Salt @ 297 Tanjong Katong Road
Fika Swedish Cafe @ 11 Tanjong Katong Road 02-K3 One KM
Gobi Cafe @ 350 Joo Chiat Road

East Coast Park
Pick Me Up Cafe @ 1A Unit 02, 920 East Coast Parkway,#01-02
---
East Coast Road 
Penny University @ 402 East Coast Road

Holqa Cafe @ 37 East Coast Road
Azzur Gelato bar @ 30 East Coast Road Katong V 01-01
Carvers & Co. @ 43 East Coast Road 
Rabbit Carrot Gun @ 49 East Coast Road (image)
Baker's Well @ 35 East Coast Road 
---
Siglap | Frankel
Dutch Colony @ 113 Frankel Avenue

Coast & Company @ 54 Siglap Drive 

Craftsmen Speciality Coffee @ 2 First street Siglap 01-01 
---
Paya Lebar
Nom @ 400 Paya Lebar way (Macpherson CC) 
Passion Cafe @ 247 Paya Lebar Road, #02-01
---
Bedok North | Bedok Reservior 
To-Gather Cafe @ 84 Bedok North Street 4

Percolate @ 136 Bedok North Avenue 3
Fat Cat Ice-cream Bar @ 416 Bedok North Avenue 2 #01-25
The Refuel Cafe @ 744 Bedok Reservoir Road (image)
Milk and Honey Gelato @ 86 Bedok North St 4 01-179 
---
Changi Road
Collective Brewers @ 301 Changi Road 
Fresh Fruits Lab @ 351 Changi Road Kembangan
Black and Ink Cafe @ 168 Changi Road 01-01/02
---
Changi Business Park
Fart Tartz Cafe @ 1 Expo Drive 02-04 
Table Manners @ 5 Changi Business Park Central 1 

---
Changi Village 
Chock Full Of Beans @4 Changi Village Road 01-2090
The Peloton Coffee & Juice Bar @ 1 Changi Village Road 01-2008
Rock & Ash @ 01-2004 BLK 1 Changi Village Road
Bunny & Pony @ 1 Changi Village Road #01-2000
The Coasta Settlement @ 200 Netheravon Road 

---
Upper Changi Road
Time table Cafe @ 430 Upper Changi Road 01-01  
D'zerts Cafe @ 30 Jalan Pari Burong 

Lots Gourmet Stop @ 965A Upper Changi Road North 
The Bark Cafe @ 1000 Upper Changi Road North 
---
---