Office coffee machine : Saeco Aroma Stainless Steel
Contact us to better Your Cafes & Coffee business
---
Oct 16 Special! Subscribe to OCM for a Starbucks report worth $39. 
---
Vouchers on augmented reality Apps (download ePrism to enjoy.)
Other F&B Services:  F&B marketing package and F&B Training
---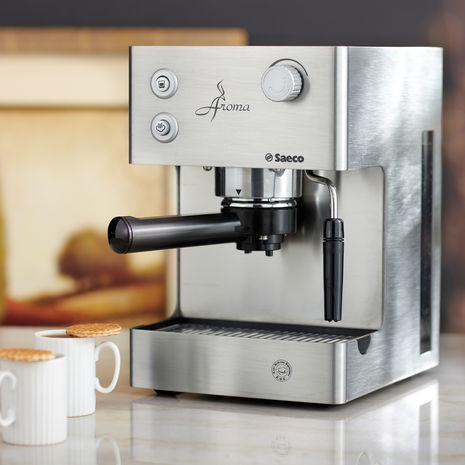 The stylish Saeco Aroma Stainless Steel espresso maker is a coffee machine Saeco is proud to recommend to its customers. This particular Italian espresso machine will add value to any kitchen in which it is placed.

It has received favorable comment in espresso maker reviews as well as reviews from consumers. If first impressions are important, then with this coffee machine, Saeco have got a winner.
It has sturdy metal body which immediately suggests that your espresso machine will most probably outlive you.
It has a cup holding facility on the top of the machine which immediately gives it that "professional coffee shop" look. It just looks the way Italian coffee makers should. The thing is it is nearly as good as any of the professional machines you get to read about.
---
Other Office Coffee Machines
Follow Oncoffeemakers.com's board Office Coffee Machines | Singapore on Pinterest.
---
This coffee machine saeco produce will allow you the luxury of the choice of a number of different hot beverages to choose from. The steam wand, which comes standard with every coffee machine Saeco has in this line, will allow you to prepare cappuccinos, lattes and mochas.
The steam wand, which Saeco calls the Pannarello, is designed to provide either steam to froth milk or it also can provide hot water for tea and hot chocolate.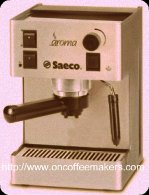 The design of the espresso machine includes a pressurized filter which means in simple language you can fill it with your favorite coffee finely ground, lock it into place and the boiler will duly help you produce the best espresso in the traditional way.
The great thing about this filter holder is that it can also accommodate the easy serve espresso pods.
This unlocks a whole new range of drinks which are available through the single serve pod market. Ultimately this makes the Saeco espresso maker far more affordable than one might at first think because one can do so much with it.
Then, because the boiler is able to dose the hot water carefully in time it perfectly it means that the maximum flavor is extracted from the coffee and that you are guaranteed perfect crema every time.
The new design also features a new control interface which gives the operator access to determine the amount of coffee brewed as well as the strength of the coffee that this coffee maker saeco make will produce. This espresso and coffee maker will take some beating, it is robust.
As one has come to expect, the water reservoir as well as the drip tray are removable for easy cleaning. I can go on and on, but what I want to say is: - this is an excellent product from the house of Saeco.
---
---
---