Brew Express Built in Coffee Maker
---
Discounted Masterclass tickets | Vouchers on augmented reality Apps (download ePrism to enjoy dining vouchers.).
Other F&B Services:  F&B marketing package and F&B Training
Custom Search
---
Built in coffee maker is coffee machine built into walls, the model that they are familiar with would be the miele, however that model is so expensive. Here, I would like to highlight another brand -the brew express.

The brew express is an innovative coffee maker by Lance Larkin and the most amazing thing about this coffee maker is what it cannot do -take up space!
If you want to know the performance of the brew express coffee maker, hear this: Brew express meet and exceed the criteria and standards set by the specialty coffee association of America. Personally, I feel that this is a great testimony of the superb performance of the brew express.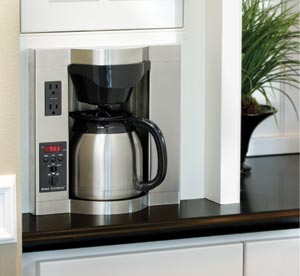 There are some folks that are really particular about the look and feel about their interior decor, you now how everything have to be "theme", then you would never want to risk having a francisfrancis in the midst of your "zen" interior decor.
Do not get me wrong, francisfrancis is a great espresso maker, but it is "retro looking", the only to ensure that your coffee maker fits into any interior decor is -built in coffee maker. And to get an affordable one, it would be the brew express.
For those that go for coffee maker that are built into the kitchen cabinet or even wall, we know that the main driver is aesthetics. However, do you know that using a built in coffee maker is very convenient?
Because with these coffee makers that are build in, they have to come with a water point, so your coffee makers comes with a ready water supply. This meant that when you want to brew coffee, all you need to do is add the coffee!
The brew express capitalized on this feature and enhances it with the self-fills on command, so when you add coffee grounds, the water auto-refills with an even temperature on the ground coffee beans.
Personally, I think a thermal carafe is important, people do not really like the taste of burn coffee on warming plate and this is what brew express comes with, ensuring that your brew coffee can stay fresh for a couple of hours.
I could go on about the cup selector and the large capacity of this built in coffee maker, but I think highlighting the main point about this coffee maker is its built in feature and its lower cost tier at less than $450, which is really low compared to miele thousands over dollars...
---
---
---