Artistry Gallery Cafe | Jalan Pinang | Singapore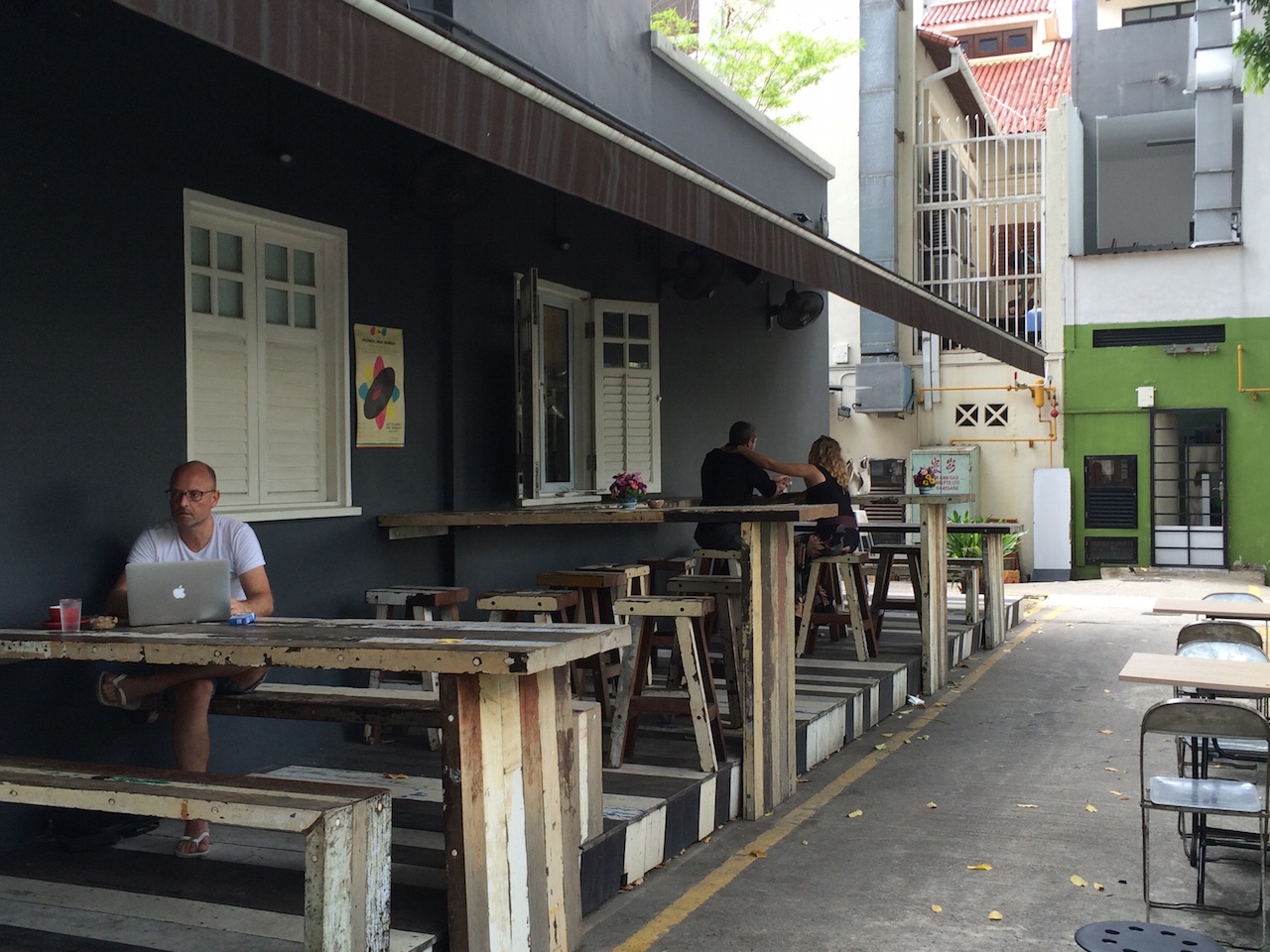 ---
Discounted Masterclass tickets | Vouchers on augmented reality Apps (download ePrism to enjoy dining vouchers.).
Other F&B Services:  F&B marketing package and F&B Training
Custom Search
---
It's a hybrid of gallery and café.
Cruising along Victoria Street towards Bugis, you will see this eye-catching shophouse with gray walls which is visibly seen from the main road. Artistry is located on this short street called Jalan Pinang but it's located at the corner of the street. Other than serving a good variety of cakes, this café lives up to its name.  Artistry is a hybrid gallery and art café that exhibits art pieces.  When I was there, works by ceramics artists featuring tableware and other ceramics functional ware, t-shirts and cloth bags drawn by artists were on display. I do understand the exhibits change regularly so it will be good to check out their facebook page before heading down.   
Prashant, one of the cafe owners, is a performing artist himself.  With natural pieces of wood that he found, he creatively constructed and assembled together some personalized benches for both the interior and al fresco sitting of the cafe. Instead of buying ready-made shelves, he recycled some wooden crates to display the ceramics exhibit. 
Back to the food, I tried the Waffles with a single scoop of Fig & Honey ice-cream ($11). The waffles' texture was absolutely light and crispy on the outside and served slightly warm. However, the ice- cream was too creamy for me but the fig and streaks of honey inside kind of made the taste special. Prices at this café are nett.
PS: The alfresco seating outside is a lovely place to people-watch on a nice, cool evening.
Artistry Gallery Cafe Information:
17 Jalan Pinang
Singapore 199149
Tel: +65 6298 2420
 Tue - Fri: 9:00 am - 11:00 pm
Sat: 9:30 am - 11:30 pm
Sun: 9:30 am - 4:00 pm
Have you been to
Artistry Gallery Cafe at 17 Jalan Pinang
too? We love to hear your experience of this or even other cafes.
---
Cafes in City (Town)
Orchard Road 
Dean and Deluca @ 181 Orchard Road 04-23/24
Saveur @ 14 Scotts Road 01-7B (Far East Plaza)
Costa Coffee @ 313 Orchard Road 01-29 
Cafe Mondo @ 181 Orchard Road 02-31/32
---
Orchard Gateway
Criollo Cocoa Cafe @ 277 Orchard Road 02-01 

Supply & Demand @ 277 Orchard Road #02-13/14
Ollie Cafe @ 277 Orchard Road B2-10 
Dhoby Ghaut 
Bricks N Cubes @ The Cathay, 2 Handy Road 02-12/14

---
North Bridge Road
Cake Delights Bakery @ 664 North Bridge Road
Rabbit Owl Depot @ 420 North Bridge Road 01-06
Twenty Grammes @ 753 North Bridge Road 01-01
---
Market Street & Hong Kong Street 
Socks and Pans @ 50 Market Street 01-23
---
City Hall
Dazzling Cafe @ 15 Stamford Road | Capitol Piazza
---
Arab Street | Baghdad Street | Haji & Bali Lane
La Marelle Cafe & Boutique @ 25A Baghdad Street
Royz Et Vous Cafe @ 17 Bali Lane 
Shop Wonderland -The Pantry @ 37 Haji Lane
Middle Road 
Stuttgart Blackforest @ 141 Middle Road 01-01 (Closed)
---
Lavendar
The Coffee Shot @ 103 Lavender Street
The Tiramisu Hero Cafe @ 121 Tyrwhitt Road
The Bravery Cafe @ 66 Horne Road
Jalan Sultan

Toots Brasserie @ 101 Jalan Sultan 01-01 
Artistry Gallery Cafe @ 17 Jalan Pinang 

---
Kelantan Road

Molly Coddle Cafe @ 30 Kelantan Road 01-99 

Owen Road
House of Commons @ 138 Owen Road
---
---
---