Can you use an arcade coffee grinder?
---
Discounted Masterclass tickets | Vouchers on augmented reality Apps (download ePrism to enjoy dining vouchers.).
Other F&B Services:  F&B marketing package and F&B Training
Custom Search
---
Sure, arcade coffee grinder being a grinder, sure can be used to grind coffee beans. The question should be -would you used them? For those that have not heard of arcade grinders before, it simply mean that you are not old enough.

Arcade coffee grinder belongs to the group that antique clocks are in, they are very old stuff. And so, when you pay few hundreds for a coffee grinder that date back to 1800's, would you use them to grind coffee?
In fact, coffee grinder from Arcade is more suited for display and in this article, we would simply be showcasing two of them. Nothing much was known about their performance, so we would not touch on those either.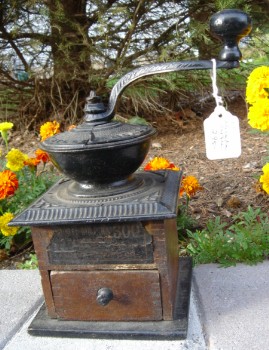 If you are looking for an arcade grinder then you are either a collector or someone that wants a piece of coffee history. And if your budget is about $200.00, then the "laptop" style grinder would be within your reach.
For a "laptop" style arcade coffee grinder , and those dating back to 1880 to 1890s that comes with the slogan "Favorite Mill 300", most collector's sites are retailing between $200 to $300.00.
The prices would depend on the coffee grinder condition, age and also usability.
The next coffee grinder from arcade would interest only the serious collectors. It is the very rare arcade bell coffee grinder and some sites are retailing it as high as $2000.00. This arcade grinder boast of a iron classic arcade face with dark even patina. Complete with pine wood box with tongue, this is a coffee grinder that is really a piece of antique.
After reading this piece of article, you still do not know how an arcade grinder performs? My advice is not to be bother with it, because folks that buy them usually would not want anyone to touch them. They only want to place the coffee grinder on display...
---
This is not an instant coffee machine, it is easy to use and uses real coffee beans. 
---
---
---