Antique coffee grinders, are they usable?
---
Discounted Masterclass tickets | Vouchers on augmented reality Apps (download ePrism to enjoy dining vouchers.).
Other F&B Services:  F&B marketing package and F&B Training
Custom Search
---
If that is so, why bother about antique coffee grinders? Now, before any and every pot of coffee or shot of espresso, somewhere someone has to grind the roasted coffee beans into coffee grounds. And that is the reason why these antique grinders have a "market".

While most people will pop a cartridge into their espresso machine and that's that. Those with more time and a slightly more discerning palate will source their ground coffee and add it to their favorite coffee machine, if not freshly ground then from a sealed vacuum pack.
Grinding the roasted coffee beans yourself is one way of ensuring the freshest coffee grounds. However, not if you use antique coffee grinders.
Many a family heirloom is still being used to grind coffee beans by hand. This is not necessarily a good idea. There are very many good yet inexpensive coffee grinders of the markets. The Mazzer grinder range is one such an example.
The antique coffee grinders often still make up of blades to chop up the coffee beans. That might have been acceptable in the nineteenth century but today it is generally accepted that the antique grinders chop up the beans into irregular sized pieces which is not optimal for the best performance of a modern coffee machine.
The coffee bean needs a fine and consistent grind which is produced by the more modern burr coffee grinders. These will produce a better quality of coffee ground that the old hand coffee grinders will.
If you are interested in making an espresso then you need an espresso grinder. The grind for espresso is very fine and cannot be replicated through the use of antique coffee grinders.
The most important reason to use the antique coffee grinders are for décor purposes in my opinion. Would you even bother to really clean a very old coffee grinder?
There are bound to be areas that have residue from many many previous grinds and they will taint the quality of your coffee grounds.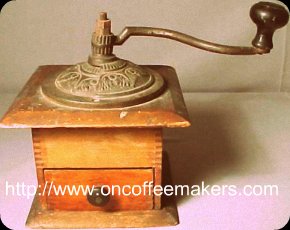 One does not want to cast aspersions of the cleaning habits of previous generations. However, the importance of the need for thorough cleaning of all of the appliances used to prepare coffee so as to ensure that the taste is untainted by previous brews is a relatively recent discovery.
A whole new realization of the effect of the degree of cleanliness of appliances on the taste of coffee brewed gives rise to these concerns.
Even the modern hand coffee grinders produce a superior quality grind and are a lot easier to clean that their antique predecessors. So, keep those antique grinder or use them as a show piece, for some real grind, get a modern coffee grinder... 
---
Easy to use office coffee machine? They say you do not need to read a manual to use this.
---
---
---