7-eleven can gives great coffee experience, at the "right time"
---
Discounted Masterclass tickets | Vouchers on augmented reality Apps (download ePrism to enjoy dining vouchers.).
Other F&B Services:  F&B marketing package and F&B Training
Custom Search
---
7-eleven is probably the place to go for a warm cuppa, some small snacks in wee or should I say weird hours. And so, knowing what coffee they serve, I guess is important to some people, especially coffee aficionados that would like to know where their coffee comes from.
Hint: I don't about other places, but things in 7-eleven are much higher compared to normal super or hyper-market in my country, this is really not a place you would want to do your usual grocery shopping, but coffee in the middle of the night -by all means...
I guess when people think about commercial coffee makers, the picture of coin slot vending machines comes into their mind. Interestingly, these AVM or automated vending machines does not fit into most commercial environment.
Look at restaurant or fast food outlet, most if not all are either drip coffee makers or espresso machines. The rest are having what we termed the commercial coffee maker. And most convenience stores, like 7-eleven are using that.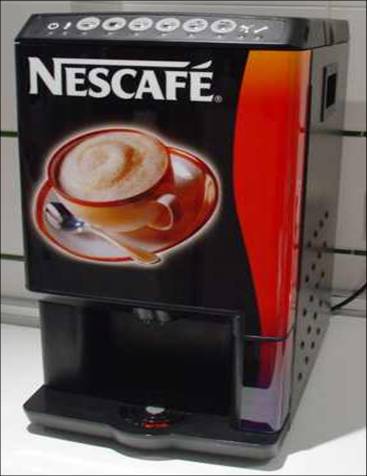 This commercial coffee maker combines the strength of espresso and vending machines. It can dispense long black, espresso, latte,cappuccino like an espresso machine, but does not require any tamping, any frothing, its ease is similar to a push button of a vending machine.
Okay, those ordinary looking machines in 7-eleven sure doesn't seem to be so good, am I sure? Well, let's put in this way, they have the range, they could almost match the taste with their extensive R&D, but if you really go into the details, the latte, cappuccino that these machines dispense is really vending machine grade.
But, think of it this way: in the middle of the night (cold night) where most coffee house are close and you are totally zero on your coffee beans (regardless how good your saeco is, no beans means no coffee), at the corner of a 7-eleven, you get to choose the range of coffee that is similar to a coffee house, isn't that heavenly?
Now, the next question would be on the quality of the coffee. Nestle is one of the largest roasters around and their blend are mostly Arabica with many variety of roast to choose from, most popular is the high roast (interestingly).
So, quality wise, it is definitely not lower than Starbucks or Seattle Best etc. In fact, with so many more years of roasting coffee (Nescafe), they should be much more better than these "new kids on the block"!
Now, folks, writing an article highlighting the value of granules/ freeze dried coffee would definitely be a no-no for many coffee aficionados. But, to me, situation dictates the "great coffee" that we are having.
Sure, on a lazy Sunday afternoon, nothing beats a home brewed coffee from that Bodum vacuum coffee maker, then good coffee on a Wednesday afternoon might be the $2 a cup drip coffee using coarse robusta from that coffee shop around the corner, and in the middle of a winter night where everything is closed, 7-eleven with their range of freeze dried coffee would be the one that gives you that coffee experience...


Wanna learn something more about coffee makers, roasters, grinders...
---
---