50 Cup Coffee Maker That is Good | Delonghi DCU500T
---
Discounted Masterclass tickets | Vouchers on augmented reality Apps (download ePrism to enjoy dining vouchers.).
Other F&B Services:  F&B marketing package and F&B Training
Custom Search
---
DeLonghi is known for its high quality coffee related products, such as coffee grinders, coffee makers, and espresso machines. One such example of a DeLonghi coffee maker is the DeLonghi DCU500T, which is a 50 cup coffee urn.

The DeLonghi DCU500T50 Cup Coffee Maker is best coffee maker for social gatherings and workplaces.
Its 20 to 50 cup capacity is more than enough to supply great cups of coffee to a crowd of people, whether it's during a party, a family reunion, or for quick coffee breaks in the office.
The first thing that stands out about this DeLonghi coffee maker is its sleek and durable stainless steel exterior and a drip tray under the spout, which is rarely seen in a coffee urn.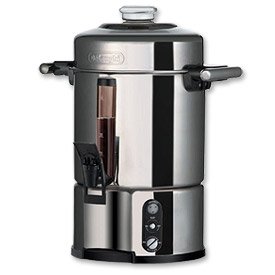 The DeLonghi DCU500T 50 Cup Coffee Maker features a stainless steel basket and pump pipe, which ensures that it maximizes coffee extraction to make great tasting cups of coffee.
Once coffee has been brewed, it has an automatic keep warm function, which ensures that it dispenses coffee at the optimal serving temperature.
In addition, you can adjust the post-brew temperature in order to prevent the coffee from getting overcooked (which leaves a burnttaste in the coffee) while its hot temperature is being maintained by the automatic keep warm function.
It also has a coffee level indicator, which lets you know how much coffee is left so you do not run out of coffee unexpectedly.
Furthermore, it also features a freshness indicator, which is a very handy feature that indicates whether or not the coffee left inside this 50 cup coffee maker is still fresh and can still be consumed and enjoyed.
To dispense coffee into your cup, it has a double function spout, which you can either push down, or push the bottom of the spout with your cup.
The dual function spout is also designed to prevent drips whenever it is not being used to dispense coffee. Its other features include on and ready indicator lights and heat resistant cool-touch handles.
For a high capacity coffee maker, it has a reasonably quick brewing time.
Therefore, if you're looking for a great coffee urn that you can use in an upcoming social gathering, or if you're looking for a high capacity coffee maker that you can use in the workplace to keep your co-workers in high spirits, the DeLonghi DCU500T 50 Cup Coffee Maker is highly recommended. 

---
---
---