40 hands coffee is all about the coffee and more!
---
Oct 16 Special! Subscribe to OCM for a Starbucks report worth $39. 
---
Vouchers on augmented reality Apps (download ePrism to enjoy.)
Other F&B Services:  F&B marketing package and F&B Training
---
Most folks reading this 40 hands coffee might be curious about why a name for a cafe -apparently it is the dedication to coffee and the reason for this shop name.

It takes 40 hands from picking the coffee beans to serving a hot cuppa on your table and thus the name. In a way (we interpret), this is a way of asking people to be grateful for every piece of food on their table.
And 40 hands coffee strongly support sustainable coffee, fair trade and direct trade coffee. All the causes directly or indirectly supporting the coffee farmers.
This is a cafe with a big heart!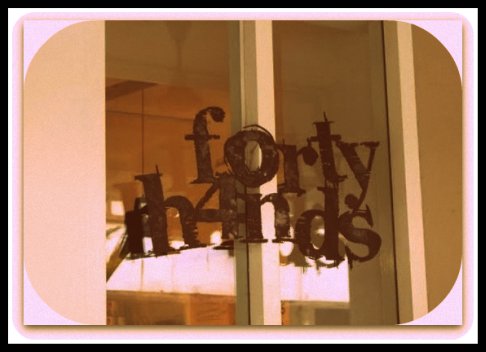 Why should you go there?
Well, if the name doesn't move you to check them out, their location should!
Located in the quaint neighborhood of Tiong bahru, it is a place that one can go to for some peace and quiet. You can find it on 78 Yong Siak Street, the side of the block that is facing the Regency Condominium.
And of course, the coffee is anything but standard. Having an Australian as a owner, coffee is their pride and joy, go there expecting a java experience that is nothing standard (Starbucks and Mac Cafe is the standard stuff).
We are all probably used to "baristas" in Starbucks pressing a few buttons for our coffee. Here, all their gourmet coffee are hand crafted.
Should stopped praising their coffee (because the theme is unique cafe) and move on to other variables. By the way, this is probably one of the few or maybe the only cafe that served all day brunches.
Nothing special, but guess if you have a cravings for egg Benedict at night, you know where to get one!
What is the best time to go
Between 11am to 1 pm is the "Right time" to eat brunches, don't you agree? But, that is also their popular timing.**
**they are reportedly so popular that once has a 500 turnover for their 100 sitting cafe. So, lunch should be crowded.
As with all other cafes, the best time to enjoy and soak in the atmosphere of where this cafe is located is between 3-5pm, where the crowd is light.
That is where you can absolutely enjoy their hand crafted coffee, read a book or spend some quality time with love ones.
What you read above are our summary of what is a unique cafe after reading and evaluating readers' submission.
If you know of cafe that you feel is as or more unique than 40 hands coffee, please use this link and tell us more (every submissions would be given a caffeine gift:)
---
---
Other cafes in Singapore
---
---