211 roof terrace cafe - is a "star" cafe (Closed) 
---
Discounted Masterclass tickets | Vouchers on augmented reality Apps (download ePrism to enjoy dining vouchers.).
Other F&B Services:  F&B marketing package and F&B Training
Custom Search
---
211 roof terrace cafe located in Holland Village, Singapore does not have a nice sounding name. It simply does not sounds a romantic place to hang out -but it is, and more. 
In the concrete jungle of Singapore, this is one of the few roof top cafe that allows one to enjoy the night scenery without burning a hole in the pocket (we all know how expensive those roof top cafe and restaurants in Marina Bay Sands charges, don't we?).

How is the food and drink there?
We are not officially a food review site, so would not talk much about it. But really have to mention this three dishes: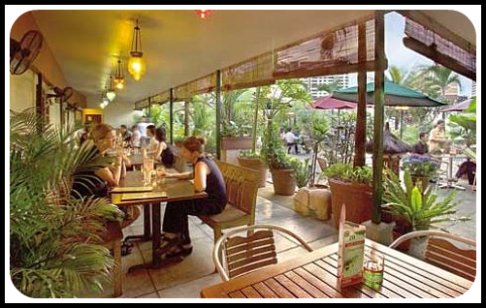 Their signature 4 cheese pizza is delightful, their seafood marinara is rich and delicious and their chocolate brownie really perks you up.
Their food is a fusion of Australian and Italian cuisine, so there should be something for everyone.
But, one do not go there for the food -it is the ambiance.
The best comes at last
The best value add of 211 roof terrace cafe comes after dinner and you finishes it out with a latte and some desserts.
Sipping the hot cuppa, one can relax under the cover of stars. While, it might sounds incredible to be able to see stars in Singapore (with all the lights pollution), it is possible to catch a glimpse of it here.
And relaxing under the stars make it the main reason why one would want to check out cafe 211. The Balinese setting with lots of greenery really enhance the whole ambiance.
To learn about more cafes in Singapore similar to the 211 roof terrace cafe or to recommend one -check out the link and learn how to get a free kopi set from us!
---
---