2 cup coffee maker does espresso!
---
Oct 16 Special! Subscribe to OCM for a Starbucks report worth $39. 
---
Vouchers on augmented reality Apps (download ePrism to enjoy.)
Other F&B Services:  F&B marketing package and F&B Training
---
People looking for 2 cup coffee maker would be think along the line of drip filter coffee brewer, with names such as ultrex. But, I was thinking why should these two cups be giving you only coffee, would it be able to give you something else?

And that is where I chanced upon the bialetti mukka espress 2 cup espresso maker. Now, instead of a 2 cup coffee maker brewing you the usual coffee, you get an stovetop espresso maker giving you some quality espresso and cappuccino!
While the idea sounds good, you might be thinking if there are any drawbacks to this bialetti stovetop concept. There is one and that is the thermal mug. Most two cup coffee maker comes with a thermal mug that allows you to brew and take it with you.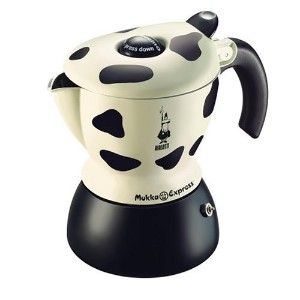 In fact, if there is a competitive advantage of these 2 cup coffeebrewer, it would be the thermal feature. People that purchase these coffee makers loves the idea of brewing and having coffee on the go.
But, bialetti being a stovetop espresso maker, does not comes with this feature. Of course, this is easily solved by purchasing a thermal mug and simply pouring the brewed coffee into it.
Some coffee drinkers might also argue that the operation of bialetti is much more complicated than the 2 cup coffee maker, on this I beg to differ. Both requires the user to scoop the coffee ground, pour in the water and switch on the heat source, so how different can it be?
Currently, I do not know of any 2 cup coffee brewer that comes with a programmable feature, unless it does, then it would indeed be easier than a bialetti.
Personally, I think if you want better coffee and even cappuccino,all you need to do is to compliment the bialetti mukka espresso with a thermal mug.
While not many people would count bialetti among the best coffee makers, for the ease of operation and affordable price that you are paying for the brewer,the coffee profile is more than acceptable.
So, if you are looking for a 2 cup coffee maker, you might want to consider bialetti and bring a mug espresso or cappuccino as you commute to work!

---
---