My 10 best coffee makers list (part 1) 
---
Oct 16 Special! Subscribe to OCM for a Starbucks report worth $39. 
---
Vouchers on augmented reality Apps (download ePrism to enjoy.)
Other F&B Services:  F&B marketing package and F&B Training
---
My 10 best coffee makers list, that might point you to your desired coffee machine...
I do not know how important "look and feel" is to people shopping for the best coffee makers, but if anyone asked me for a modern classic look, then my recommendation would be the Gaggia 74841 and she would be my choice as I start the 10 best coffee makers list (not in any particular order).
If you want a coffee maker to fit into the decor of your kitchen, then the next in line for the best coffee machines would definitely do the job.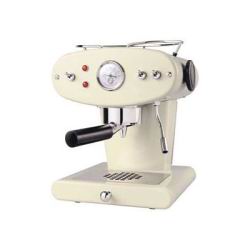 FrancicFrancis X1 belongs to the higher price tier coffee makers, but this retro looking coffee makers not only score high in the looks department, its ability to brew gourmet coffee has garned it high marks in the performance department as well.
The next coffee machines in the 10 best coffee makers list also score well both in the "look and feel" and also produces great coffee. It is the KitchenAid Artisan.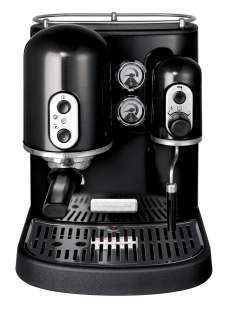 Perhaps, it's best known capability would be its dual-boiler system that allows one to brew gourmet standard espresso. The fourth coffee makers that should be in the 10 best is definitely Delonghi Prima Donna. Although, it is very pricey at over $1000, its ease of use simply cannot be matched.

Sure, there are tons of coffee makers out there that are easy to use. But, definitely nothing like Delonghi Prima, a machine that has full espresso functions but brews with the push of a button.
Till now, my highlights are mostly on espresso machines, but the fifth coffee makers that are in my 10 best coffee makers list is in because it is versatile.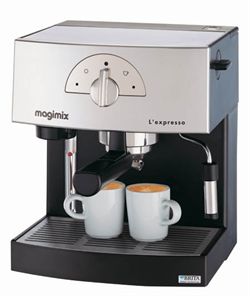 The Magimix 11401 with its 19 bar pressure pump can produce smooth cappuccino and aromatic espresso. Other than the usual coffee ground, it has the function to use coffee pods, allowing coffee lovers to switch to easier alternatives during the hetic period of their life.
My choice for the next 2 coffee makers in the 10 best coffee makers list also has gives consumers choices. The sixth coffee makers that I think deserved the 10 best title would be Krups XP2070.
Other than its known performance in making great coffee, it also allows the use of e.s.e pods to be used other than coffee ground. So, great coffee and dual functions got Krups XP2070 into the 10 best coffee machines list.
See: Part 2 of 10 best coffee makers
---
---