1 cup coffee maker or single serve coffee maker?
---
Discounted Masterclass tickets | Vouchers on augmented reality Apps (download ePrism to enjoy dining vouchers.).
Other F&B Services:  F&B marketing package and F&B Training
Custom Search
---
Isn't 1 cup coffee maker the same as single serve coffee maker? Well, in the market, there are many people that would think the same way. While, there are no clear definition on the differences, retailers tend to have 2 categories for each of these machines.

That being said, in some places, if you asked for a 1 cup coffee maker, the sales personnel might still refer you to a single serve coffee maker and even in some websites, 1 cup is deem to be the same as a single serve coffee maker.
But, in this article, we would discuss them as 2 coffee makers and what are the pros of getting one over another.
The main difference between this machine and the single serve coffee maker is the coffee that they used. The former uses coffee grounds and brews with a filter, while the latter uses coffee pods.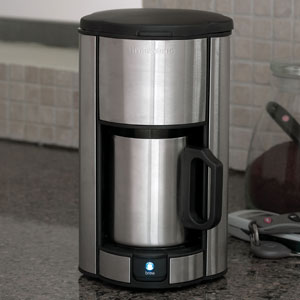 For example, a brookstone single cup coffee maker that can brew coffee in less than five minutes uses coffee grounds with a permanent filter mesh. To make it travel friendly, this brookstone coffee maker even comes with a double walled stainless steeltravel mug that supposedly can keep your coffee hot for up to 4 hours.

And the price tag for this coffee maker is a mere $39.
If you would to get a single serve coffee maker, say, a senseo, it would set you back by at least $90. Of course, with this higher price tag, the senseo comes with much easier way of preparing coffee.
All you need to do is to insert a coffee pod (or pad as it is known as in senseo case) into the machine, press a button, and you would be able to enjoy the cuppa. Other than the ease of use, the cleaning is merely about throwing away the spent pod, and rinsing of the coffee machine.
So, which coffee maker should you get? If you are just trying out and not sure about the blend of coffee you like or the amount of investment you are willing to do for coffee, then go for the lowest cost, which is the 1 cup coffee maker.
Then, because they are filter coffee, using them would allow you to try the different blend of coffee. Once you are sure of the coffee you like, then you might want to go for a single serve coffee maker which is easier to use and maintain.
---
---